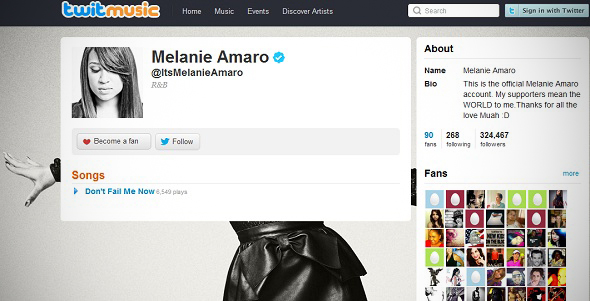 Melanie Amaro, champion of X-Factor USA season one, a reality TV singing contest started by media mogul Simon Cowell, has released her debut single "Don't Fail Me Now" on TwitMusic, a service which lets users discover and share music uploaded by artists.
Her single, which was let loose last week, has garnered over 6,500 plays on the platform, making her one of the more popular singers there. To listen to the new song, users are required to sign in to Twitter and tweet about it using a preset hashtag.
TwitMusic was officially launched in January 2012 by CEO Stefano Fazzini and CTO Christian Fazzini who recently moved from the Philippines to Silicon Valley to join 500 Startups, a well-known accelerator and venture fund.  Since its founding, the service has been used by over 9,000 artists.
According to the company, the platform has reached out to about 44 million people, and experienced 348% growth in registered artists and a 638% increase in engagements since January this year. 'Engagements' involve people retweeting a song, commenting on it, clicking 'love', and using the #nowplaying hashtag.
Another fairly well-known artist on TwitMusic is Carly Rae Jepsen, whose hit single "Call Me Maybe" has been getting heavy airplay recently. It has gotten over 8,000 listens on the platform.