Wujudkan is a startup that focuses on crowdfunding for Indonesia's creative industry. It was co-founded by four people: Mandy Marahimin, Zaki Jaihutan, Dondi Hananto, and Wicak Soegijoko. Graduated from the first class of the Jakarta Founders Institute three months ago, Wujudkan has had 12 projects since its launch.
There are more than a few startups out there doing crowdfunding but Wujudkan is different. It is launched in a country which its tech ecosystem is still new; where founders have to try to find a solution to make the crowdfunding work. Coming from diverse backgrounds – technical, finance, legal – they are trying to combine all of their knowledge to make Wujudkan take off in Indonesia.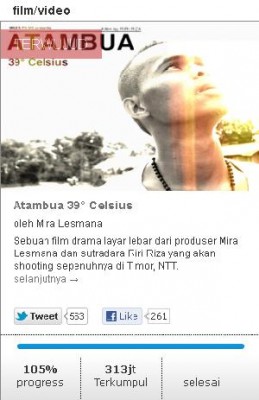 Five of Wujudkan's 12 projects have finished their fundraising campaigns. It involves a curation process and helps to shape each campaign in a way that will catch people's attention. The first and the biggest project, Atambua, reached its goal just a few days before the campaign was scheduled to end. Working together with famous filmmaker Mira Lesmana and Riri Riza, it set an ambitious goal of IDR 300 millions(US$32,100) for a movie that will be recorded at East Nusa Tenggara.
Mandy Marahimin, co-founder of Wujudkan, tells us more about the project:
Having Atambua reach its goal is a huge milestone for us. It really was the effort of teamwork. Not just from the Wujudkan team, but also from Mira Lesmana and Riri Riza. We all relentlessly campaigned, blogged, tweeted, and email everyone in our address books, even meeting them offline. Yes, it is an achievement, but we still have a long way to go. What the success of this project showed me is the beauty of crowdfunding. It is not about you, it is about everyone AND you. It's like falling in love: you have to open up and risk yourself getting hurt, but when you do and you love fearlessly, you will always get bigger returns.
As the first-moving crowdsourcing startup in Indonesia, Mandy believes that Indonesians are familiar with the concept of crowdfunding but still have a barrier of trust in doing internet transactions. The trust is starting to increase lately though, and Mandy wants Wujudkan to be up there and ready to ride the wave when it comes. Mandy told us that Wujudkan itself is currently fundraising and looking to hire a few more people to add to the small team she has.