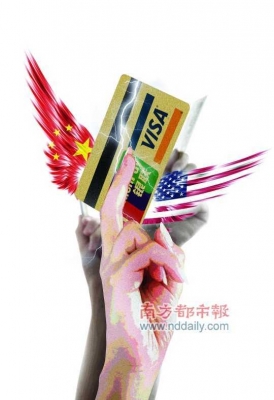 As of now, the lucrative market in online and electronic payment solutions in China is controlled more or less entirely by Chinese players. While Paypal does function here, it's not accepted on most e-commerce sites, which tend to prefer Alibaba's AliPay or UnionPay-linked online banking. Visa, MasterCard, and other international payment brands, are generally not accepted.
But all that could change as the result of the WTO's ruling today that China discriminates against foreign suppliers of e-payment services. Many see this ruling as an opening for international companies; for example, Bloomberg quotes a Visa spokesman as saying: "We are hopeful that this ruling will pave the way for international payment companies to participate in the domestic payments marketplace in China."
And it's definitely a lucrative market. E-payments were worth "several hundred billions of dollars" in 2010, according to the China Daily. It's unclear, however, how easy it would be for Visa or Mastercard to get a piece of that market at this point. Even with a level playing field, it may not be easy. In e-commerce, for example, Chinese online shoppers nearly all have AliPay accounts or online banking with UnionPay (or often both), and I'm not sure what, if anything, would get them to switch.
Meanwhile, it's possible that both sides will appeal the ruling, as China doesn't agree with the WTO's finding that it has been discriminating against foreign companies, and the US doesn't agree with the WTO's dismissal of its claims that state-controlled UnionPay is a monopoly.
If you're looking for a winner here, though, it's consumers. More choice is always better, even if foreign companies have trouble making real inroads into China's e-payments market. Guo Tianyong, director of the Banking Industry Research Institute at China's Central University of Finance and Economics, explains:
The point of opening an industry up to the outside is to increase the level of service and the efficiency in the industry, and to encourage a competitive market. With increased competition from outside over the past two years, UnionPay's service has improved quickly, and the efficiency of service has also clearly improved. I don't think the WTO ruling will lead to immediate changes in the market, the opening up of the e-payments industry will be a process. But the domestic market will move towards becoming more open as the renminbi [China's currency] becomes more internationalized and actively enters the international marketplace.
In other words, even if western companies never really make it in China's e-payments system, their presence here will force UnionPay to improve itself, which is also a good thing. Hooray!
[Southern Metropolis via Sina Tech]