Indonesia is a very social country, so when there's something funny or bizarre happening, you can expect it to go viral. The first viral story of 2014 in Indonesia is both funny and bizarre, and it involves matters of religion.
Ahmad Gozali (@AhmadGozali) is an advisor of social corporation Sedekah Harian (meaning "daily alms"). The company has quite a few followers dedicated to putting on charity and donation events in disaster-stricken areas. Gozali was on pilgrimage to Mekkah, and everything looked normal. But then he posted this: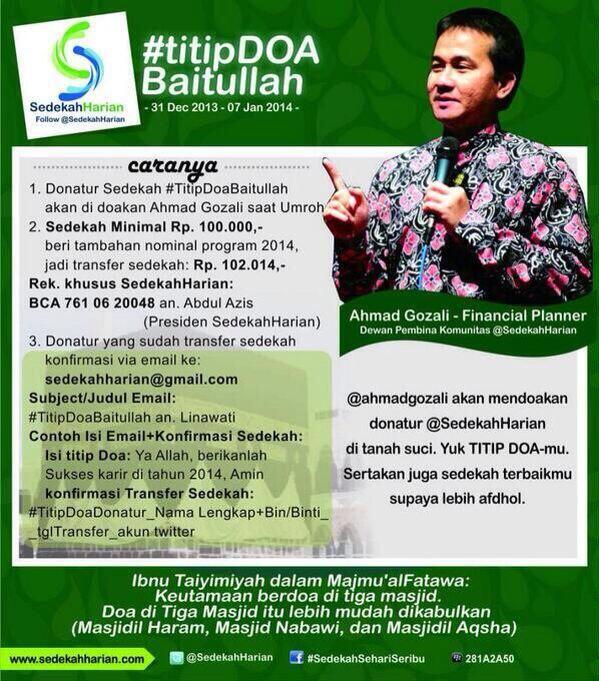 The poster says that Gozali will pray for specific people during his visit to Mekkah, as long as they transfer alms of a minimum IDR 100,000 ($8.3) to Sedekah Harian. Because the money goes to his company's social programs in 2014, he said an additional 2,014 rupiah would be appropriate for easier transfer identification. If they are feeling generous, of course, they can send in more money. This is all part of the #TitipDoaBaitullah (roughly means "ask for Baitullah prayer) program.
Those who send money just email their prayer and bank transfer receipt to Sedekah Harian. Nope, there's no money back guarantee if the prayers aren't answered by God.
Joke's on Gozali
The idea of people "buying" prayers from Gozali was so bizarre that the story was shared among friends. But after it received attention from Indonesian movie producer and director Joko Anwar (@JokoAnwar), who slammed it on Twitter (he has 540,000 followers), the pay-for-prayer scheme went viral.
While it's quite normal to ask someone to pray for you in Mekkah, what makes this bizarre is the fact that Gozali put a price on his "service". Even worse, he put a minimum price on it. According to Muslim teaching, alms should first and foremost be voluntary.
Not only did netizens slam him for making money from religion, they also joked about it on social media. One person actually claimed to transfer money to Harian Sedekah and asked Gozali to pray for God to protect everyone from Ahmad Gozali and Abdul Azis (president of Sedekah Harian), who use God's name for money.
Another person (I hope) jokingly tweeted that celebrity singer Nabilah from all-girl pop group JKT48 will soon be his girlfriend now that he has transferred money to Gozali. Other users "prayed" for their favorite football clubs to win.
Is this a scam?
This concern was fueled when Gozali tweeted that he had just arrived in Jeddah, Saudi Arabia, but the tweet location showed he was in Jakarta. This caused quite an uproar until Gozali corrected his geotagging to his current location and tweeted that this is not a scam.
Response from Sedekah Harian
After a few hours of total mayhem regarding Sedekah Harian's project, the team finally gave an official statement. Ahmad Gozali tweeted six points to explain that it is normal to pray for other people, especially when he or she receives alms from them. Then he apologized for requiring a minimum amount for alms, and reassured everyone that he is indeed in Saudi Arabia.
Abdul Azis, Sedekah Harian's president, also tweeted that all of the money transferred will be used for donation purposes, and he doesn't receive any income from running Sedekah Harian. He also apologized to everyone for the prayer payment scheme. Azis will later speak on several TV channels later tonight to respond to the social uproar.
Sedekah Harian's website also published a press release stating that the money will be used for social projects. It apologized for the confusion and said that Gozali has now halted the program. Some followers still believe in Sedekah Harian and its two leaders, but stated that they do not approve of the "pay-for-prayer" concept.
(Source: Kaskus user Critical)
(Editing by Paul Bischoff)