I'd like to think Beijing has got a pretty solid Barcamp community. Each event here usually attracts over 400 people, and I never miss one if I can help it.
Then there's Burma, where the last Barcamp at Hlaing University in Yangon brought in an estimated 5,000 participants, according to Irrawaddy. That makes Beijing – indeed, most of the worlds' Barcamps – look like a sewing circle.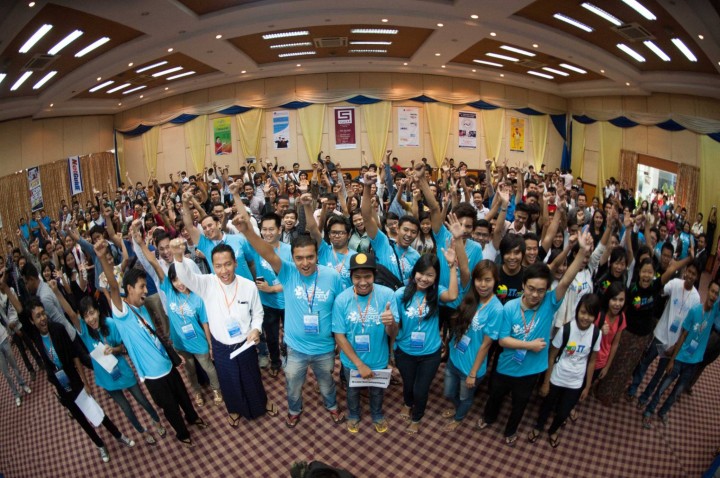 But something fishy is going on here. We've heard from multiple sources that those numbers might not be what they seem. One participant, who agreed to give a quote on the condition of anonymity, says, "There's no way they had over 5,000 people unless they were double counting days one and two."
This isn't just a one-time phenomenon, either. Barcamp Yangon consistently reports being most popular Barcamp in the world. Even the original was a smash hit, claiming 3,000 people. Last year's event in the country's former capital still holds the record– an estimated 6,300 participants.
"I think the truth is, there was never 6,000 people in 2013. There is no way there were 5,000 people in 2014," said another source on the ground there, also anonymous. "I don't think Barcamp is the whole picture of tech events in Myanmar either. There are other events".
For the uninitiated, Barcamp is a grassroots meetup where volunteers can sign up to speak about whatever they wish. Entrance is free, and there are usually several talks happening at once at back to back intervals throughout the day, so participants can pick and choose their agenda. Think TED Talks, except far more casual and in bulk. While all topics are on the table, there's usually an emphasis on technology and the web.
Last weekend was Yangon's fifth Barcamp, and it recorded 4,442 registered participants along with many unregistered walk-ins. About 160 speeches spanned the day-long event. The organizers also set up a fellowship program to teach participants from other parts of the country how to organize their own Barcamps.
Even if the numbers are inflated, the popular events are still bright spots in a country we rarely hear from. Pollenizer CEO Phil Morle blogged about one talk in particular, in which the audience was so packed it didn't even leave standing room.
Neighboring Cambodia has also caught Barcamp fever. Last October, Barcamp Phnom Penh drew 3,000 people, making it the largest "tech" conference in the country's history. The Barcamps there have consistently reported more than 1,000 attendees.
What's astounding about both these cases is the stark contrast with the countries' tech and startup ecosystems. Juxtaposed against these massively successful events are the realities of relatively small populations and low internet penetration rates. Only one percent of the Burmese population has access to the internet, and just five percent in Cambodia, according to Internet World Stats.
Barcamp's origins run back to Silicon Valley, but the disparate "unconferences" often aren't affiliated by anything other than name and mission.
(Image credit: Barcamp Yangon's Facebook)
(Editing by Josh Horwitz)