Updated on: 7 December 2012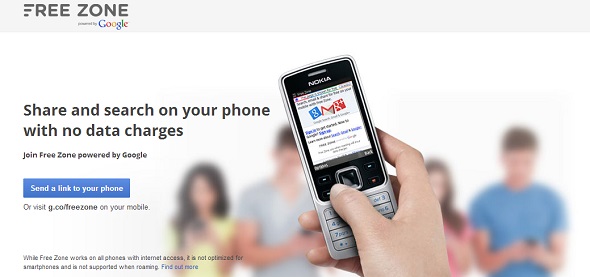 Despite the hoax press release of Google's supposed USD500M acquisition of Wifi provider ICOA, which duped the Verge, the Internet giant's recent forays to become an internet service provider is no joke.
While the search company has gotten a lot of press mileage for its Google Fiber experiment and partnership with Boingo to provide wifi hotspots in the United States, the launch of the Google Free Zone in the Philippines could make the most impact.
The Rappler reported that the Philippines is the first country to host Google's new intiative, which lets people access Gmail, Google+, and Google search free-of-charge on their mobile phones. Announced on November 8, the service does not require users to have a data plan, and works on most internet-enabled mobile phones.
The Google Free Zone, created in partnership with Globe Telecom, is available to prepaid Globe and TouchMobile subscribers. Billed as a promo, the service will run until March 31, 2013. There's no indication what will happen after that.
Indonesia has joined the club as well, through a partnership between Google and Telkomsel (a SingTel subsidiary) that was announced on 5 December. The service will be available for at least six months, and can be accessed from the mobile phone via telkomsel.com/freezone.
The Google Free Zone is aimed at pushing millions of feature phone users onto the Internet. Google has told Reuters that it will be made available to emerging markets. While there are many possible candidates in Asia, where feature phones predominate, South Africa is the likely next market due to an announcement by the country's cellphone network 8ta.
While Google's strategic move is potentially lucrative and could ingratiate a new generation of Internet users to Google's services, it isn't the first major Internet player to pull off something similar.
Facebook, for example, has launched Facebook Zero in developing countries in 2010, way ahead of Google. Zero is a lightweight version of Facebook offered via mobile operators that works on feature phones. It allows users to accomplish many of the social network's basic tasks.
And like the Free Zone, some of the features on Facebook Zero do not incur data charges.
Corporate rivalries can have outsized, sometimes devastating collateral damage. But if the result of the Google-Facebook battle is cheaper internet access, then I'm sure people in developing markets wouldn't mind.