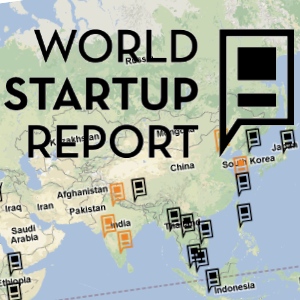 At the start of this year we talked to American entrepreneur Bowei Gai as he kicked off his worldwide, nine-month odyssey for his World Startup Report project. Amid of all the globe-trotting and networking, Bowei is also producing slideshows that detail the startup scene in each country he visits – and now we have the first report covering India.
(UPDATE: For the sake of balance, you might like to see the rebuttal by the folks at NextBigWhat who reckon that the report is too anecdotal and even inaccurate in places).
The Indian report first highlights some startup success stories in the country – ones that have grown to be key web players, like Flipkart for e-commerce (valued at US$800 million), the ad platform InMobi (worth $1 billion), and the fashion e-tailer Myntra ($100 million). There are also some notable mobile-first successes, such as the JustDial search engine. To get to that stage, Bowei's report – whose content was crowdsourced to those with knowledge of the local scene – points out important angel investors and incubators and accelerators in the country, such as The Hatch and The Startup Centre.
Aside from local innovations and useful facts, the new report also gives a guide to Indian business culture, which could prove useful to new entrants to the market. One eye-opening example is "India time", whereby poor infrastructure and chronic traffic issues mean that meetings and events often start an hour or more late. Also, a tendency towards "culture by committee" can make business progress "slower in India by a factor of two-times to ten-times in comparison to Silicon Valley."
With many looking to India recently – such as the recent commitments made by Dave McClure's 500 Startups – this could be a great reference. Here's the full 42-slide report:
By the way, the World Startup Report's next stop is on April 3 to 13 in Manila, the Philippines, where there'll be events and meet-ups. Check the site for more details.