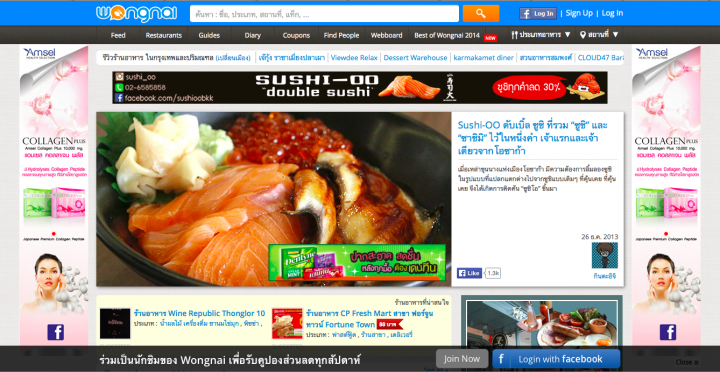 Founded in 2010, Wongnai, the restaurant review site often called Thailand's Yelp, has now grown to one million registered users, the startup revealed today. It has about 220,000 active users per month.
Wongnai CEO and founder Yod Chinsupakul commented on the achievement:
Although the number of registered users has a positive relation with the number of active users and reviews, members are members and this is not the end of the game. We will continue improving our product and create even better relationships with members and restaurants in Thailand.
Today, Wongnai also shared some interesting data regarding its users: 56 percent of its members are female; the majority (more than 72 percent) are aged 18 to 34; and 66 percent of its users live in Bangkok.
Available both as a website and mobile apps, 79 percent of its one million members access the service using smartphones. The company notes that its desktop and mobile users behave differently. Smartphone visitors use the Wongnai app during the time between meals and before bedtime, while computer-based users visit the site right before meal times (11 am, 4 pm) and also before bedtime. On workdays, more people use Wongnai in the afternoons, while on weekends, usage is more consistent throughout the day.
Back in May of last year, Wongnai received series A financing from Japan's Recruit Strategic Partners (RSP). The startup explained to Tech in Asia in August that it was aiming to reach one million users by the end of 2013. Mission accomplished!
(Editing by Steven Millward)