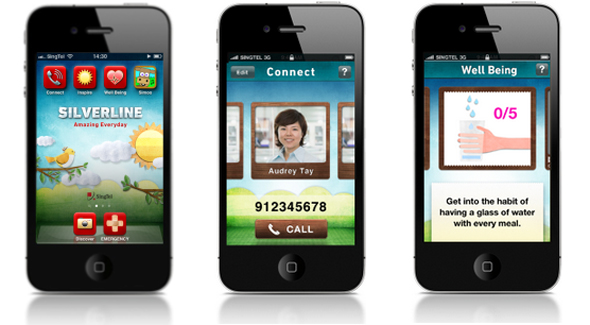 Silverline, a new venture by Singapore-based sustainable business incubator Newton Circus, has partnered with SingTel on an initiative to put smartphones into the hands of seniors.
But these are not ordinary smartphones. They are refurbished second hand-devices with senior-friendly apps installed.
Connect, for instance, presents the contact list in a visual format to aid the visually impaired. Well Being provides reminders for taking medicine, drinking water, and doing exercise. These are just some of the apps that are available (website has the full list).
Here's how Silverline is working with SingTel to distribute the phones:
SingTel customers who are renewing their contract and purchasing a new smartphone with SingTel will be offered the option of gifting their old devices to a senior citizen.
The customers can opt to give the phone to elderly beneficiaries from Willing Hearts and Lion Befrienders, with the cost borne entirely by Silverline and its partners.
Or, they will soon be able to nominate a senior they know (such as a parent or family member) and pay for a mobile plan on their behalf. Silverline receives a small cut of monthly subscription revenue to sustain its operations.
If a senior citizen is nominated, a refurbished smartphone by Silverline will be provided on the spot. The mobile plan fee for the senior citizen will be added to the customer's existing monthly mobile bills.
According to Daryl Arnold, CEO of Newton Circus, the company decided to use smartphones in this initiative because they are a blank canvas. It is easy to create apps and experiences optimized for seniors on a smartphone.
"Feature phones do not offer so much flexibility and versatility and to be honest are in decline," he said. For now, the program donates iPhones only. They will soon move into the Samsung Galaxy line and even tablets like the iPad.
The company has brought on a bevy of partners to get the initiative off the ground. In addition to those mentioned, Ogilvy has helped with solution development an marketing, BuUuk is supplying their app development and management expertise, while SPW Enterprise takes care of the smartphone refurbishment and device preparation portion.
While Silverline is tackling a social problem, it also wants to solve an environmental one.
The mobile phone industry works by enticing customers to swap their old phones for new ones in just a year or two. That is a tremendous waste. Electronic devices can leak toxic chemicals once they are disposed of.
Silverline gives these older smartphones a new lease of life by putting them in the hands of seniors. As a result, the smartphones don't enter the landfill so quickly, and the elderly have a chance of bridging the digital divide.
And play Angry Birds.
Watch how one senior is benefiting from Silverline: