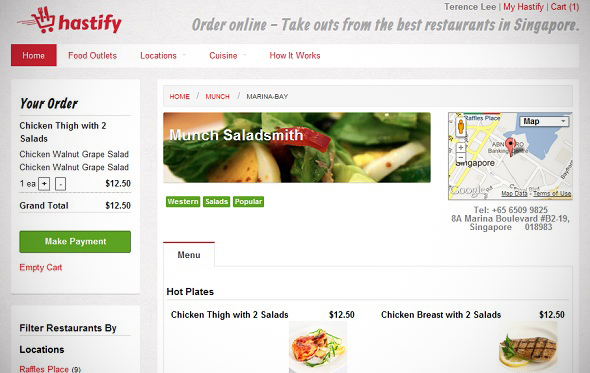 Queuing is agonizing. According to a New York Times article, supermarkets earn about USD 5.5 billion annually from impulse buys, caused in large part by the need of shoppers to relieve the agony of waiting in line. Racks of candy and magazines are placed right in front of the cashiers to milk every last dime out of you.
All in all, Americans spend about 37 billion hours each year queuing — and the same problem is definitely occurring in Asia. That's a lot of wasted time.
Now, there's a new Singapore startup called Hastify that hopes to eliminate the need to wait in line, at least when it comes to food takeouts. Its website is a food ordering service that lets you order items from a variety of restaurants and then collect them on-location.
I can imagine Hastify being useful at peak hour lunches on weekdays. Jostling with sweaty corporate types at overcrowded restaurants is an extremely unpleasant experience, and the prospect of being able to avoid all that holds much appeal.
The ordering process works this way: Once you order and checkout, an SMS will be sent to you to confirm the order. You can then take a leisurely stroll to the restaurant to pick up your food. In theory, your order should be ready by the time you've arrived, but given the crazy lunchtime crowds, you'll have to hope they'll be able to manage the demand.
The site currently features 29 restaurants located in Singapore's Central Business District, a logical starting point. The revenue model is straightforward: Hastify takes a cut of every transaction.
The service is currently restricted only to the web, although the website is mobile-friendly. The native apps are coming very soon. Currently, restaurants have the option of receiving orders via a wireless receipt printer connected to Hastify's servers, or via SMS.
Hastify is founded by four individuals: Timothy Ee serves as the marketer, while Ryan Oh and Jagdish Chandiramani are the web developers. John Kueh rounds up the team as the designer.
In Southeast Asia, the food industry is undergoing a tech renaissance of sorts. A web and mobile ecosystem is forming around restaurants and cafes: Table reservation sites have become commonplace, and so have food delivery sites. Tech companies are starting to change every aspect of the restaurant business, from how consumers discover food (see Burpple and Spawt) to how restaurants manage and process orders.
Indeed, the increasing adoption and acceptance of technology in the food industry may have paved the way for startups like Hastify, and I'm quite certain in the next few weeks and months we'll see more online food ordering services emerge.
Services like Hastify, as it is with many startup ideas, have been around in the United States for quite some time. The most prominent one is GrubHub, which launched in Chicago in 2004 and has gone on to secure some USD 84M in funding. It is now an institution onto itself, processing orders at 13,000 restaurants and generating revenue that jumped from USD 8.5M in 2010 to USD 30M in 2011.
It recently acquired New York food delivery company Dotmenu, which owns Campusfood and Allmenus. It also integrated with Foodspotting, a mobile food discovery app.
Other startups in the West that occupy this space include LocalUp, Seamless, and Just-Eat.