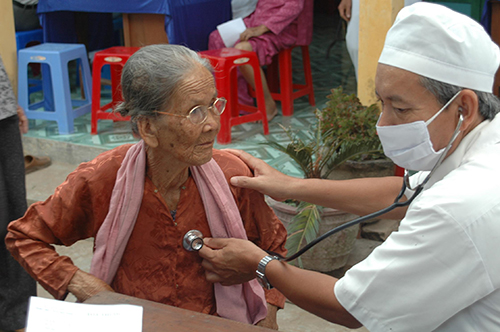 There aren't too many startups in Vietnam that are making a foray into medicine. In fact, I only know two: Wish.vn and Yton.vn. Let's focus on Wish.vn, which is an attempt at creating a healthcare social network.
I spoke with Nguyen Quoc Tuan, CEO at Wish.vn, for the lowdown on the fledgling startup. He is also business development director for HiPT. HiPT has been around for 18 years doing software development in the domestic market and only in the last 10 months did it start incubating startups like Wish.vn. It's got two more startups in the pipeline, but Tuan declined to say what they are. But he was happy to introduce Wish.vn:
It's basically a social network for healthcare. In the beginning, we wanted to build a system where people could save their examination results online. But then we realized that we needed to build a social aspect to help the health of the community.
Tuan explains that simply, you could look at it as a combination of electronic health records, a social network to allow patients to rate health care, healthcare information, promotions connecting with partners, and tools to help you keep up your health. Yeah, it's a lot.
Basically, users can log into the site via Facebook, they can post their personal health records, ask questions about their health and doctors will respond, and talk to other people interested in health issues.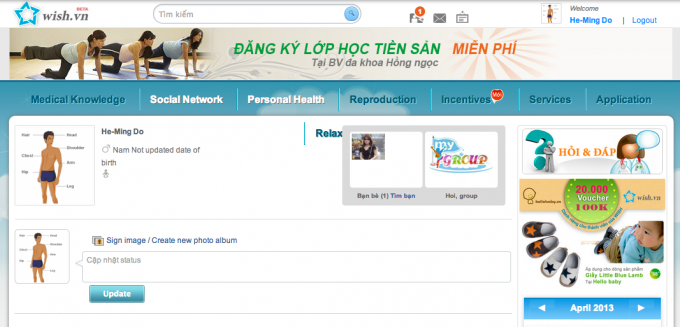 Tuan hopes to make money in three ways: advertising, bringing partners like hardware providers in touch with hospitals, and annual fees from users for extra services like consultations, emergency medical services, and healthcare data. Users will be able to post what sickness they have and Wish.vn will recommend which hospital to go to, and what kind of medicine to check out. It's a pretty ambitious project that seems to be going all over the place at the moment. But currently users are most attracted to the social network aspect (sharing their health problems) and pregnancy advice section.
To date, Wish.vn with its team of 15, has 20,000 users with 3,000 unique visits per month. That's since they came out of beta in December 2012. Wish.vn is also working on building a healthcare app store that allows users to download apps that can help with their health, like for monitoring heartrate. The startup already has its own iPhone app that you can check out here.