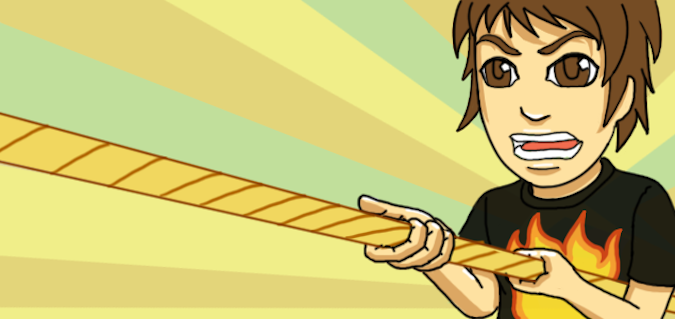 We held a hackathon in Bandung, Indonesia three months ago, and I have been informed that one of the winning teams from that event is continuing their project. TaTao is a game made for feature phone users on the Kotagames platform. The game revolves around tug of war, which Indonesians play on independence day. It was created by a four man group, comprised of co-founders Jason Christian, Ericko Yaputro, Thomas Simpson, and Michael Setiawan.
After the hackathon in Bandung, Michael said the team continued the project because they saw potential business that they can all focus on if it turns out well. All of them are university students and have coursework to fulfill. Thus, finding a common time to work together is a challenge. The team keeps their communication online, work individually during their free time, and meeting on the weekends to complete the game.
TaTao is a mashup of the name Tarik Tambang, the Indonesian name for tug of war. It was chosen because they thought it sounded Japanese and was easy to remember. It's a simple social game where players get to train their own characters and battle against their friends. Players can allocate points to stamina, strength, or weight to improve their characters in battle.
The title is free to play and is monetized by selling virtual goods. After playing the game for a while, my character grew to level 21, but the top 20 players in the game are well above level 100 with top three players at level 1018, 851, and 761. It looks like there are already many active players on there.
The Kotagames platform was chosen because Indonesia has a strong feature phone segment and the platform seems to monetize those handsets well. Kotagames' co-founder, Vincent Wang recently said that it had 26 games on its platform, and as of December 2012, they had recorded 1.6million users, 400,000 of them being monthly active users.
We are glad that our hackathon contributed to the new project and we look forward to seeing more great things coming out of this region. In the interests of disclosure, we should point out that Kotagames was a sponsor for that event, but we're glad to see that their involvement has led to an interesting game like this one!