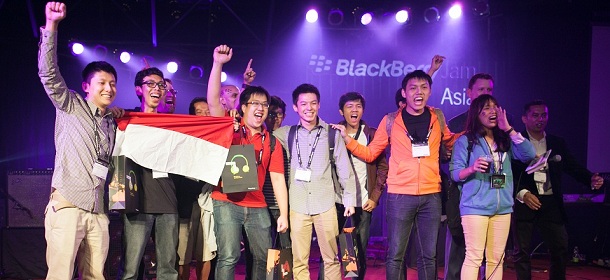 Blackberry JamHack Asia just finished a few days ago, with Indonesian web and app developers Inspira Solusi Indonesia emerging as the grand champion with its Soccer Ticker app (pictured below). The team came out among ten Asian city winners that competed at the event. We spoke more with the co-founder of Inspira Solusi Indonesia, Vincent Putera, about his recent success, and it turns out that Inspira's portfolio looks pretty impressive, and its future looks bright.
Inspira Solusi Indonesia was founded late last year by Vincent, Hendry Gunawan, and Abrizal Ang. In addition to building their own web and app startups, Inspira is also available to develop apps for clients. Interestingly, the three co-founders are all returnees to Indonesia, having spent time in the US previously. Vincent himself spent eight years there finishing his undergraduate and MBA degrees, and then worked for a publishing house. He said that one of the reasons he came back to Indonesia was to take part in the immense potential of digital ventures in the country.
1. Why did you guys decide to build a soccer scores app?
Vincent: We built Soccer Ticker because we haven't seen anything similar on the market. I'm a football fan and it's hard for me to find a mobile app that could really provide in-depth play-by-play live updates on a certain match.
We're also integrating it with BBM to differentiate our product a bit further and also to replicate the excitement of enjoying football matches in a collective way. Think NoBar (means "watching something together"), or going to see a match with your buddies.
2. What was the secret to winning the JamHack Asia?
Vincent: I think I was somewhat optimistic that we had a good shot at winning it. We had a good idea and it was well executed. It just felt like it hit all the right notes. Plus the marketability and audience for this service is quite huge, so we thought why not give it a shot.
I supposed you could say for now that the integrated chatting platform is the secret sauce. It is certainly one thing that would make the app stickier. We have a few more tricks, but we'll keep them under wraps for now.
The key factor was definitely the team behind it. We had the right idea, but as always, an idea alone won't take you far. We worked hard to flesh out the idea using Cascades.
3. What is the revenue model for Soccer Ticker? Is the app available now?
Vincent: It is not available right now, but it will be featured in Blackberry 10 when it comes out. […] You could go to www.soccerticker.net and leave your email there for scheduled beta access. The revenue model is going to be ad-based and freemium.
4. What do you think about Blackberry's future in Indonesia? And about its latest Blackberry 10 OS?
Vincent: Indonesia will still be a BlackBerry nation for another year at least, especially with the more affordable variants of Blackberry coming out. RIM's future is fine in Indonesia. It's the western hemisphere that they need to worry about.
BB OS 10 is actually decent and puts RIM in the same playing field as Google and Apple. I just hope it's not too little too late.
5. What are your upcoming plans?
Vincent: Yes, Blackberry 10 isn't coming out until next year, so meanwhile we're going to do iOS and Android versions, and make sure they're out the door in very near future. Time is of the essence. At the same time, we owe it to Blackberry JamHack for discovering Soccer Ticker, so we going to include some features that are exclusive to Blackberry 10 when it comes out. Just minor stuff, but it's just our way of saying thanks.
I'd like to credit my team who pulled off Soccer Ticker at BBJamAsia. We're not bunch of Steve Jobses, but we're bunch of committed individuals. You know how there's a saying that "If a job is worth doing, it's worth doing well," and I really believe the team has that attitude in them. They are people that wanted to run marathons, cage fight, and hunt alligators, but were born with asthma. They're the people with that startup attitude.
6. Are you looking for Investment?
Vincent: Yes, we're looking for investment to help us grow and scale Soccer Ticker in a timely manner.
Soccer Ticker Preview
Below is the video of how the Soccer Ticker app works. Though the explanation is on semi Indonesian-English language, this video can still give you a glimpse of what you can expect when the app is launched on other OSes.
Keeping Busy
Besides building apps, Inspira is also running two startups, they are Indonesian gadget community Gadgetan.com and Daily Deals site HelloGoodBuy.me. The latter startup got nominated for Open Web Asia, and it was featured in Echelon 2012 as one of the 50 most promising startups in Asia. Vincent said that it is scheduled to undergo a major pivot. He adds:
We're currently operating it as a daily deals site just to get our feet wet. It was never meant to be a daily deals site.