China's 13-year-long console ban is finally a thing of the past, but that doesn't mean Chinese console gamers have any more options than they did before this fall when the ban was dropped. While it's now legal to sell consoles in China thanks to the Shanghai Free Trade Zone, no one has actually started doing it yet, and it's not clear when console sales will start.
But rumors have been swirling since September that Suning, a major electronics chain which has partnered with Microsoft for other things, will be carrying the Xbox One or other Xbox consoles. And this latest photo, which has been being passed around on Chinese social media, seems to confirm this, as it was ostensibly taken in a Suning retail store: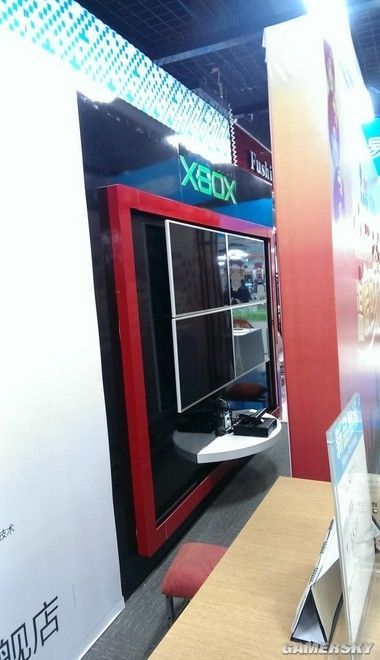 Of course, there are a lot of reasons to be skeptical of this:
Although Chinese gaming media are reporting it was, I don't see any proof this was actually taken in a Suning shop.
It looks pretty unprofessional in general, although it may not be a finished display yet.
The Xbox logo overhead appears to be the old one that was associated with the original Xbox.
The device on display appears to be an Xbox 360, although it's possible that Microsoft will start officially selling that console in China well before it offers the Xbox One, given that the Xbox One's release date elsewhere in Asia is pretty late anyway.
So does this picture mean anything? Possibly not. But it's interesting that there continue to be rumors linking Suning in particular to selling Xbox consoles. Even if this picture turns out to be a fake, I wouldn't be surprised to learn sooner or later that the Suning-Xbox rumors actually are true.