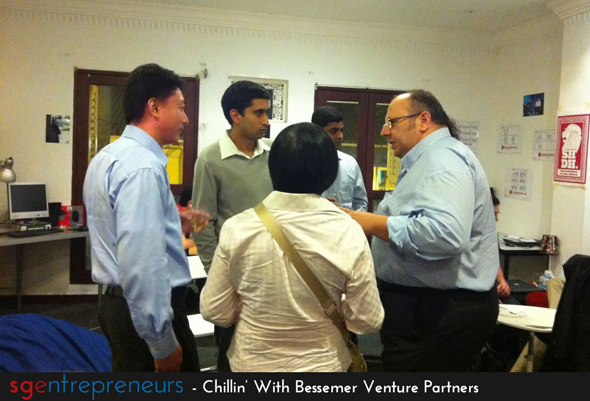 With China and India hogging the limelight when it comes to entrepreneurship, it's easy to forget that something is brewing in Southeast Asia.
Quietly but steadily, geek culture within the region is maturing, creating a suitable environment to nurture the next generation of technology entrepreneurs. A key indicator of this trend is the rise of permanent spaces which provide a comfortable environment for entrepreneurs and geeks to experiment and develop their ideas.
The first of these spaces to emerge is Hackerspace.sg, which was set up as an entirely community funded and supported initiative in 2009.
Photo: Guests interacting with Sheel (center-left) and Abhijeet (center-right) from Bessemer Venture Partners.
It is located within the Arab Street area, which contains an eclectic mix of shisha smoking joints, Indian restaurants, carpet merchants, and hip bars. A Hackerspace sign leads visitors through a door and up a staircase, into a cosy place many geeks call home.
Since then, Hackerspaces have been started all over Southeast Asia, in Indonesia, Malaysia, Vietnam, and Philippines. These venues, and the events and people that center around and emanate from them, is creating a new buzz that has caused investors to sit up and take notice.
On a Tuesday night towards the end of November, about 50 eager entrepreneuers packed Singapore's Hackerspace, hoping to make an impression on a couple of special guests from Bessemer Venture Partners (BVP), probably the oldest venture capital firm in the world.
The event, called Chillin' With, is a regular, intimate mixer organized by SGE for entrepreneurs, investors, and the tech community in Singapore. Chillin' With has played host to Dr Tony Tan, now the president of Singapore.
Mingling with the entrepreneurs were Sheel Tyle, a BVP analyst based in the New York office, and Abhijeet Muzumdar, a senior associate with BVP India. They were on a trip to Singapore as part of their tour around Southeast Asia seeking investment opportunities, having also visited Malaysia and Indonesia.
Bessemer is over a century old, and has invested in major companies like Skype, LinkedIn, Yelp, VeriSign, Staples, Hunch (acquired by eBay) and many others. Embracing failure is a part of their culture, and this can be seen in their "anti-portfolio", which lists their missed opportunities over the years (does Google sound familiar?).
According to Sheel and Abhijeet, Asia is a goldmine for angel and venture capital investment, especially in the emerging markets. While Western countries have a mature, high-income market, it is also highly competitive. On the other hand, many gaps still exist in Asia in the e-commerce and mobile space.
As such, developing countries have a tremendous upside, despite infrastructural problems and lack of talent which are major hurdles hindering entrepreneurial growth.
"Many parts of Asia are experiencing high growth in Internet penetration, which presents huge opportunities for Internet companies," noted Abhijeet, speaking in his personal capacity. For example, Indonesians are well-known for being prolific Internet users, which is made possible by the availability of low-cost smartphones. E-commerce and social networking are some of the popular activities they engage in.
"While infrastructural challenges are present, your role as the entrepreneur is to figure out a way to solve these problems," he told the crowd — a mixture of locals and expats.
Sheel added that while Southeast Asia is often perceived as a collection of disparate markets, we should start seeing them as one.
This "many countries, one market" approach is more applicable to Internet companies than traditional brick-and-mortar businesses. While tremendous cultural differences exist between countries within Southeast Asia, a product may not need to be tweaked too much (except language) to cater to different nationalities.
An example would be Facebook, which is essentially the same across all countries, just that it's translated into different languages.
In addition, Internet businesses generally contend less with the varied regulatory and legal environments found in different countries as compared to brick-and-mortar business.
But cultural differences must not be entirely dismissed, since there are cases where tweaks have to be made to the business model to cater to different markets. Abhijeet brought up the example of a regional group buying site, which could adopt the strategy of having more Muslim-friend deals in Indonesia and Malaysia but less in Singapore.
Singapore's emergence as a budding center of technological innovation has been rapid. Just five years ago, such a gathering would not have been possible. A startup ecosystem, and also angel and venture capital funding, were virtually non-existent then. The government had to build everything from scratch with the belief that entrepreneurship is necessary to keep Singapore a vibrant and progressive economy.
Through a multi-pronged approach of public sector investment in startups, a relaxed immigration policy, and a friendly regulatory environment, Singapore now has a young and vibrant entrepreneurial scene that is among the best in Southeast Asia.
While Abhijeet and Sheel praised the Singapore government for what it has done, they said that the country needs to see more exits so that startups can better attract the best and the brightest.
"Right now, the best people are still drawn to attractive jobs in big companies like Google and Facebook," said Abhijeet.
While giving employees large stock options is a good way of retaining talent, Singapore lacks the backdrop in the tech space to make this measure effective.
"People need to see one good example of a large exit or IPO to be convinced that joining a startup is the right career move, and that stock options are worth something," he added.
Nonetheless, Singapore is the perfect place to set up a company to reach the Southeast Asian and regional market due to its talented workforce, top-notch infrastructure, and efficient regulatory system.
Entrepreneurs in Singapore seem to be cognizant of the potential that exists in the region. Abhijeet has seen many bright entrepreneurs move to the country to set up their companies.
Examples that SGE have featured in the past include Steven Goh of mig33, who was born in Australia, then moved to Silicon Valley before finally shifting his company headquarters to Singapore.
ViKi is a startup founded by an international team in Singapore. Razmig Hovaghimian hails from Egypt while Changseong Ho and Ji-Won Moon are Koreans. They received US$4.3M in series A funding from VC firms and individuals, followed by a series B funding of about US$20M.
Singapore-born entrepreneurs are also spreading their wings far and wide. Tan Min-Liang, formerly a technology lawyer, moved to California to set up Razer in 1998, a gaming hardware company. It recently received US$50M in funding to expand into the China market.
Teo Jia-En started short-term rental site Roomorama in New York after a working stint at Bloomberg. She recently moved back to Singapore to set up an office here with the goal of expanding their presence in the region.
Chalkboard's co-founders Saumil Nanvati and Bernard Leong have also done well. The location-based web and mobile platform, which enables businesses to communicate with nearby customers, have expanded beyond Singapore to Malaysia and the US. They now serve close to 5,000 businesses.
These trailblazers have the ambition that goes beyond the small confines of an island — a good sign for Singapore's young startup ecosystem, and an indication to investors that talented and ambitious entrepreneurs can arise from this country.
"It'll be interesting to see what happens in the next few years," Sheel said.