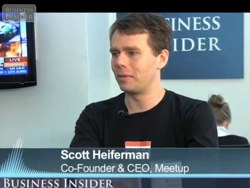 In an interview with Business Insider, Scott Heiferman, co-founder and CEO of Meetup shared some interesting bits and lessons learned through his journey as an entrepreneur.
He sold I-Traffic for millions and went straight back to work… well from an entrepreneur to a counter staff at McDonald's.
"I was spending way too much time with investment bankers and lawyers and accountants and all the Internet stuff was ephemeral. I felt like I just needed to get a real job and interact with real people," says Heiferman.
Scott went on to share his 3 tips to success, which are people, people and people. He emphasized the importance having the privilege to work with talented people who make a huge difference between success and failure.
Lastly, he added a note to all entrepreneurs, stating that a startup has to produce something useful and needed in the market. It's a "duh" statement but often, entrepreneurs are so blinded with issues like business model and internal processes, which make them lose the big picture. If your products are of quality, consumers are certainly willing to pay.