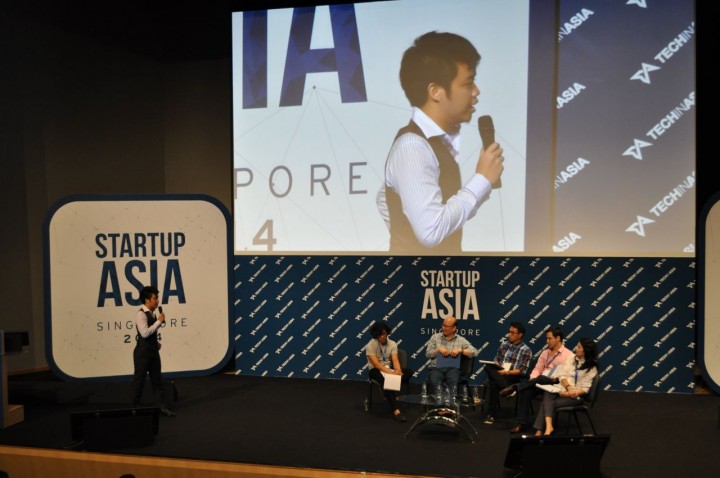 Knowledge is money, and no one knows this better than businessmen and women. Knowing who is using your product or service, or might potentially be interested in it, is marketing 101, and crucial to capturing any customer segment.
One way of identifying potential customers would be to track who looks at your advertisements. For online advertisements, this is a cinch. Offline, not so much. Muhd Amrullah, chief futurist of Singapore-based FaceRecog, notes that Nielsen sometimes plants people near an outdoor advertisement, armed with a clicker and a diary to record the number of people staring at the display – a tedious endeavor to say the least.

FaceRecog, which is one of the ten Startup Arena participants taking the stage today at Tech in Asia's Startup Asia Singapore, was created to make this process far simpler. Using proprietary facial and signal tracking technology, the FaceRecog module can track real-time footfall at a given location, while at the same time ensuring full compliance with privacy regulations.
"When you approach a FaceRecog module, FaceRecog knows someone is there, and will know whether or not that person is looking at the ad. It records, aggregates and anonymizes the data, and displays it in a company's existing dashboard," Amrullah explained.
FaceRecog provides real-time data of those statistics, which can be accessed via Google Analytics. This means managers can be anywhere and still keep track of who is looking at their outdoor ads.
Inspired by a hacker
Amrullah was first inspired by Jacob Appelbaum, an independent computer security researcher and hacker employed by the University of Washington. "As a privacy advocate, he pulled the curtains on the US National Security Agency's (NSA) arsenal of high-tech spy gear at the Chaos Communication Conference in Hamburg, Germany. I was pleasantly surprised by the technology on display," said Amrullah. "We wanted access to these technologies ourselves, too."
With this in mind, the team had two options: spend lots of money to purchase the technology, or start from scratch and develop it in-house. They chose the latter, and FaceRecog was the result.
FaceRecog has been playing nicely with other facial recognition software companies in the market, with many of them using FaceRecog as a benchmark for their own outdoor field-testing. The team will launch their facial recognition developer's program soon, wherein individuals and companies can deploy and field-test their software.
What's next for FaceRecog? At the moment, their priority is rapid expansion, and one of their partners, Clear Channel Singapore, will play in active role in backing those efforts. "Clear Channel Singapore has been working closely with us to integrate the hardware. This win-win relationship can potentially bring their out-of-home business to compete effectively with the programmatic world of digital ad-buying," explained Amrullah. "We are learning a lot from working alongside with them, and hope to share these lessons with our new partners."
Expert feedback
The judges were intrigued by the potential of the concept but harboured some doubts about the services ability to actually provide solutions. Khailee Ng, Venture Partner of 500 Startups, cited Nielsen Media noting that there has historically been an interest in gauging consumer awareness. Paul Srivorakul, Co-Founder & Executive Chairman, Ardent Capital, likened it to "clicks" for the online space. Srivorakul also expressed some concern that inventory owners would not want this sort of data because the real numbers could potentially undermine their negotiations with advertisers. Peng T. Ong, Partner of Monk's Hill Ventures, cautioned that the service could create trouble with getting privacy consents. Shirley Wong, Managing Partner of TNF Ventures, felt like there was not enough of a guarantee that technology would definitely know that people are looking and engaging.
Update: FaceRecog won the Global Brain Prize as part of Startup Arena. Their prize: an invitation to Global Brain's annual Global Brain Alliance Forum event, with airline tickets and accommodation for two people from the winning company fully sponsored. Global Brain will also introduce 2 major Japanese corporations who are part of its network to the team. Congratulations, guys!
Interested investors can contact the founders via FaceRecog's Techlist profile.
This is a part of the coverage of Startup Asia Singapore 2014, our event running on May 7 and 8. Check out all the Startup Arena pitches here. You can follow along on Twitter at @techinasia, and on our Facebook page.