S2 Games' next-gen MOBA game, Strife, is playable in Singapore this weekend, and for the first time outside of PAX Prime 2013, too. For those of you who haven't heard, Strife is S2 Games' second attempt at building their own MOBA ricebowl; the American company previously made Heroes of Newerth.
We've got the lowdown on Strife's new features right here, so we're going to jump in with our impressions of it. We also got to have a quick chat with producer Tim Shannon, so expect to see delicious nuggets of information from him peppered throughout.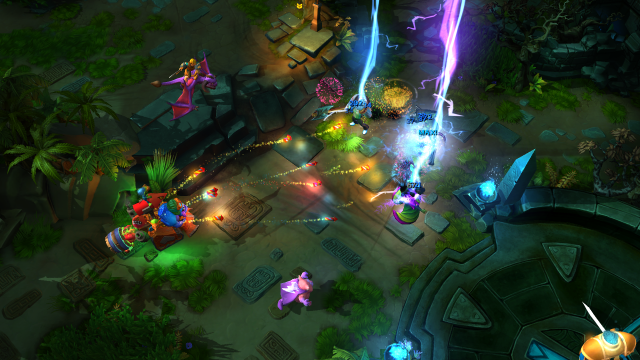 When I first sat down at a demo station, I was immediately prompted to click on the button that said 'Caprice's Story'. This, I was told, was a tutorial to ease new players into the game. It would teach them that right click would move the character, W would cast a spell, etc.
Apparently, the MOBA genre isn't as big in America as it is in Asia, hence the need for such a comprehensive tutorial. Producer Tim Shannon told me that the S2 team has had "very different experiences at expos in the States," and that he was surprised at how easily we Asian gamers take to MOBAs. Nonetheless, they're still releasing a full three-part tutorial when the game launches.
Anyway, since I'm an Asian gamer and thus a natural at MOBA games, I skipped the tutorial and jumped into a 5 v 5 game with bots (albeit on easy mode). Strife is an accessible game, and that's not just marketing spiel. Right from the character select screen, I knew this would be a game for both casual and hardcore players. Its art style is the first thing that strikes you. Shannon told me that the team had made Strife bearing in mind their experience developing Heroes of Newerth and watching the genre in general, and they've clearly learned their lesson here.
Where Heroes of Newerth was designed for the hardcore player, with its dark, extremely detailed art style and complete and utter lack of tooltips for noobs, Strife comes across as casual, fun, and not at all intimidating. In the character creation screen alone, cute characters and well designed menus keep the game open to even the newest of MOBA players. I was able to select my character, choose one of four available outfits, and change that outfit's colour, all in the same screen. You can also choose from one of two combat pets to bring into the field.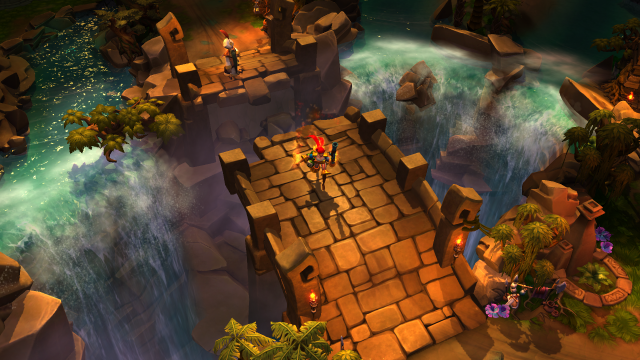 The game kicks off like any other MOBA. You're given some time to buy your necessary items and then you head into one of three lanes fanning out across the map. What Strife has done differently isn't immediately apparent, but poking around shows you the difference. You no longer have to stand before a physical shop to buy items, and there aren't any secret shops either. Players can press B and shop from wherever they might be on the map, even while in mid battle. However, receiving your items require you to be at base – else they are stored in your stash and can be delivered to you via courier. You also don't have to purchase the courier, but S2 Games made me sad because the courier button says 'panda', but you're greeted by a raccoon instead…
But I digress! The shop menu is hands down the best I've seen in a MOBA. Items are split into categories, with an extra 'recommended' tab. You can also search for individual items by typing their names in (yes!) and useable items are denoted by a little red circle on their icons. Item bonuses were clearly explained with percentages and as few numbers as possible. Now people like me, who are bad at math, can finally understand hero builds. Speaking of builds, it also seems possible to save your item build and store it for your next game.
Of course, we've already mentioned the biggest change to the game, but here it is one more time. "Strife comes down to teamwork and execution in fights," Shannon told us. The game is not about the individual carry or the sacrificial support, but how well a team can work together. In this sense, it's truly the second generation of MOBAs, because current gen MOBAs breed a culture of individualism and selfishness with their emphasis on carries, and MOBA players…well, some of them can be pretty vicious. Strife, on the other hand, is a little like the ideal of communism. Anything beneficial achieved is doled out to the team, so that all may rise together. Of course, we all know communism only works in theory, so it remains to be seen how players will take to the game.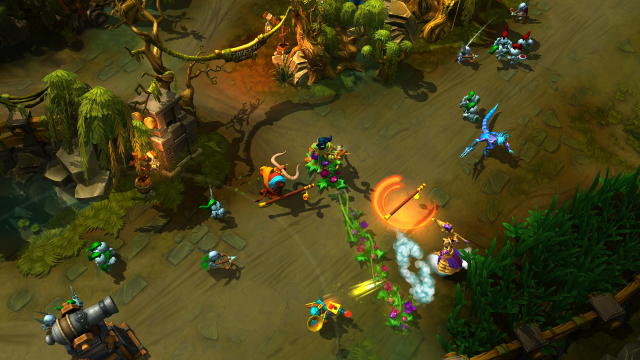 What surprised me was that producer Tim Shannon actually wanted me – wanted players – to have our own take on the game, rather than swallow what was being marketed. I asked him if strategies like jungling/neutral creeping were feasible any more, given Strife's current game mechanics. While he said that was really to be decided, there was also "a lot more room for experimentation', and that S2 Games wanted to "have people spend time to figure out how things work."
As for whether the game would be competitive or not, given its less than competitive concept? "People are going to find there are a lot of things that make it competitive," he said, while Caprice and Moxie duked it out in the background, and given the nature of current gen MOBA players, I doubt they'll take too long.
If you're interested in Strife, the game is playable until this afternoon at Campus Gamefest, a mini gaming convention held in ITE College Central. There are nine demo stations with each demo lasting for as long as a game with bots, so be sure to get there early! This is the last day of the Singapore S2 Games tour stop – they'll be heading out to Malaysia, the Philippines, Indonesia, and Thailand after this.
For those of you who can't make it down or who aren't in Singapore, we've got a bunch of beta keys to give out: nine to be exact. Leave us a comment telling us which Strife feature you're most looking forward to experiencing and we'll pick the best answers. Good luck!