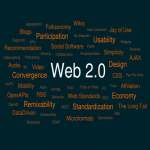 Web 2.0 can mean different things to different people. But it is actually a technology that made all the different things possible. The basis of sharing, commenting, connecting people, editing other people's web pages and interactive web designs would not have been viable without this technology. We would all agree that all online interactive services and communities such as social networks, wikis, social bookmarking, Weblogs and social news, which all fall under social media represent the success of Web 2.0.
Web 1.0 has come to pass and so have static web pages and the definitive line that was drawn between creators and readers of the Web.
Web 2.0 is the mother of the new interactive Internet. It made online social media feasible so that users are now able to publish, edit, and share information with others more conveniently than ever before. Anyone can create and share with a few clicks with Web 2.0 technology. It is that interactive and dynamic. Not only does it promote sharing among Internet users, it connects people with people. A decade ago, we would have never imagined how viral online tools like Twitter could be. But it is all happening right now and booming as I speak.
More of the world is jumping on the bandwagon, using the children of Web 2.0 for their businesses and marketing. News is getting increasingly timely with its help and the potential it can bring is officially unlimited.
Do not be confused with Web 2.0 as a collection of social media tools; it is the technology that made the features of social media possible.