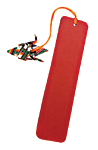 Similar to how actual bookmarks help you mark a place in books, social bookmarks record addresses of online images, videos, articles and news that you would like to view in the future.
But there're more to it.
Social bookmarking sites allow you to share and manage your bookmarks easily; and also show what your friends and most other users are interested in.
Popular social bookmarking sites include Digg, Delicious and StumbleUpon.
Video Tutorial
Simple Illustration
For illustration purposes, I have chosen to use Delicious' site.
After signing up for an account, you would be given an option to add a bookmark button to your browser toolbar. You would also be able to transfer any bookmarks you have kept previously to the site.
After which, you are free to explore the functions and tools offered by Delicious! Adding a bookmark through the site is easy, not to mention if you are using the bookmark button instead.


Manage your bookmarks with tags so that you can find them easily. You can also lock your bookmarks so others wouldn't see them.
What's unique about social bookmarking is that you can view popular and recent bookmarks made by others.
I have chosen to view popular bookmarks. In an instant, a list of web pages and other details are displayed. You can see exactly how many people have bookmarked a particular web page and the notes they have made.
As shown, social bookmarking helps save, manage and share your favorite web pages all in one site! I will leave the other features for you to discover on your own. Try it out now!