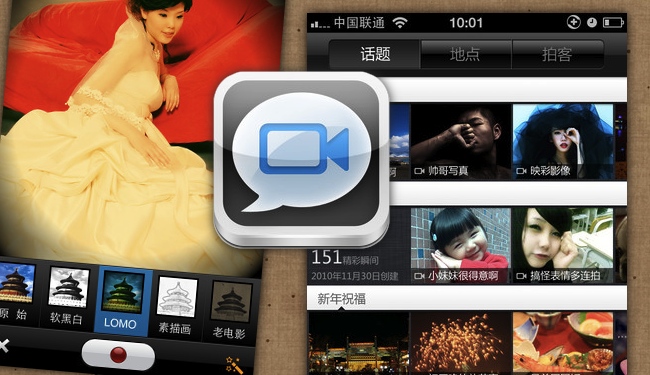 If last year was all about social photo-sharing, 2012 looks set to see a boom in video-sharing. And there's yet another Chinese startup entering this sector with the launch of Weiku. It comes with an app for iPhone – with an Android version in the works – on which users can record videos, apply filters, and share the end result socially.
Weiku follows the lead set by Movie360 and iSheHui in China. The main difference is that Weiku restricts the length of videos – to a mere 30 seconds. Although all smartphones can record for longer, the startup apparently feels that brevity is the soul of celluloid wit.
The startup's founder is Lu Jian who told Techweb that a 30-second video will weign in at 3- to 5-megabytes on an iPhone 4 or a high-end Android phone which will save your limited data plan from the not very generous Chinese 3G networks.
The little vids you've made with Weiku can be shared to Sina Weibo, Tencent Weibo, or Renren. Plus, there's a micro social network within the app where you can follow certain people, and 'like' and view their videos. The main social area of the app has a nice UI that uses horizontally-sliding blocks – much like the Vida photo-sharing app – to let you browse your buddies' content.
As with an increasing number of Chinese startups, Weiku has signed up to Shanda's (NASDAQ:SNDA; FRA:RZP) cloud hosting service – which is much like the Amazon Web Service – to power its entire back-end.
Grab the Weiku app from its website.