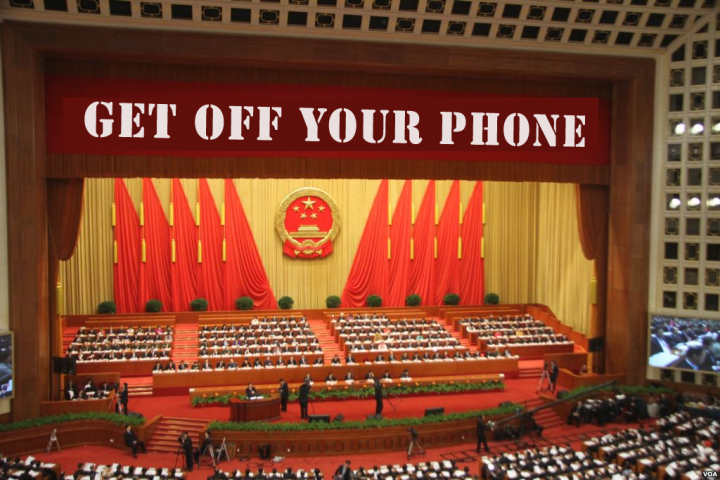 The National People's Congress (NPC) commenced today in Beijing to rubber stamp new policies and show the unity of the Communist Party.
But sitting around all day to take part in a scripted ritual can be tedious work, and the temptation for bored lawmakers to WeChat friends back in their home provinces or play a few rounds of Temple Run can be overwhelming. It's quite common for officials to be caught on camera hunched over their smartphones as the ceremony goes on around them.
To solve this problem, a new set of rules (hat-tip to Quartz) akin to what you'd experience in a high school classroom have been put in place:
No text messages or phone calls during the meeting
No playing games on your phone or computer
No live-tweeting the meeting via Weibo or WeChat
That last one has created particularly embarrassing situations in the past. Chinese bloggers used photos tweeted from inside the Congress to shame some of their leaders (paywall) wearing expensive designer clothing despite their meager government salaries.
Sleeping during the Congress is also obviously discouraged, but without their smartphones, we expect at least a few more members of the world's largest parliamentary body will be lulled into a nap. Officials predicted this, however, and asked speakers to limit their talks at the podium to 10 minutes and not read from a script.
(Source: Quartz)
(Image credit: Voice of America via Wikimedia Commons)
(Editing by Josh Horwitz)