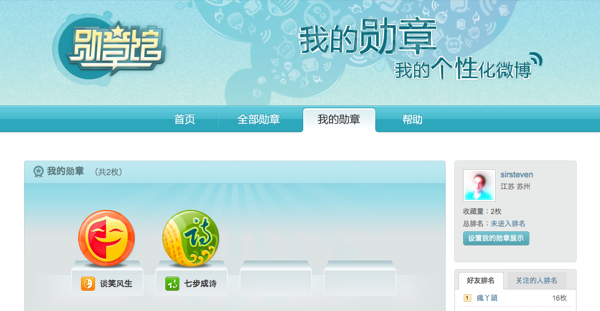 Today Sina rolled out badges as 'achievement awards' for users on its Weibo microblogging platform.
The badges can be deliberately – or coincidentally – attained by doing something or following someone within Sina Weibo. These badges of virtual endeavor are then displayed just below your username on your Weibo page, but are also given a fancier display in your virtual trophy cabinet. My sorrowful two badges are pictured above.
You can peruse your friend's badges, too, to see what they've managed to do on Weibo, and even compare how many more, or less, they might have (pictured below):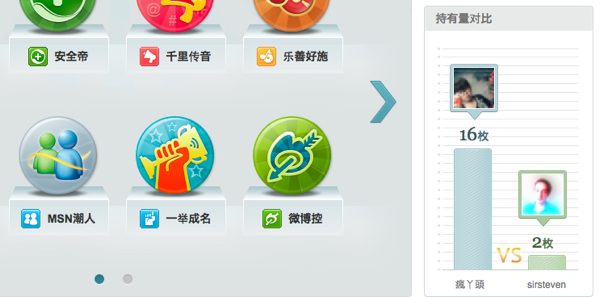 Inevitably, this is heading towards brands, and indeed there are already some branded badges available, such as the ones from Nike, Chinese clothing chain Metersbonwe (pictured below), MSN, and local phone maker OPPO. Clicking on a badge could do one of two things: If it's a badge from Sina, it just takes you to your trophy room, but if it's a branded one then it'll probably take you to the brand's promo page. Ker-ching!
Yes, the badges are a new way for Sina to monetize Weibo, just as they have been for location-based services. When we recently chatted to the co-founder of Jiepang, it was clear how valued some badges can be, especially ones from premium brands such as Louis Vuitton or Burberry.
So, clicking on the mysterious 'Find' badge on a fan's page, sent me off to a special OPPO promo page, showing off their latest celebrity endorsement from Leonardo DiCaprio.
If you find any peculiar brand badges, show them off in the comments, or catch me on Sina Weibo as @SirSteven.