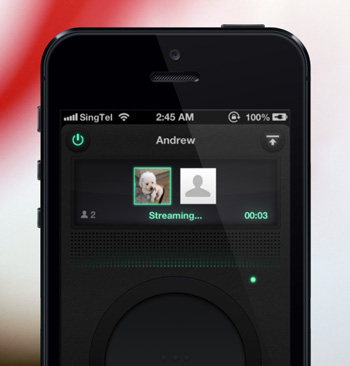 After several people asking us for a review, we finally got two of our team members to update to the latest WeChat version 4.5.0.9 and give the live chat a test. Sorry for the slight delay, people.
Overall? I would rate it a lukewarm good. There were times when our voices were unclear (though that could be the sucky internet!) but generally the experience was pretty decent. Long story short, WeChat's live chat works like a walkie-talkie. You and your friends are put into the same group (see right) to have quick voice chats. Push the button and speak. Release to send. Not rocket science.
It's similar to the current voice chat but more fun and convenient, plus it enables you to converse in a group. If the network connection is OK, you could practically replace your walkie-talkie with the WeChat app. We can foresee ourselves using the app to do quick communication when running our conferences. Only thing that might be of concern is that voice messages in live chat mode aren't trackable. But that seems like an acceptable sacrifice for fast mass voice communication.
We also asked ourselves how the live chat is different from call and recorded voice chat. Our conclusion was that walkie-talkie live chat allows you to save data usage and also battery life. Data is only used when voice messages are sent and received, so there's minimal data consumption when live chat is on standby mode. Meanwhile, calls charge money regardless of whether you're speaking or not, and voice recorded chat isn't real-time enough to facilitate fast communication in groups.
The rest of the changes are pretty minor and straightforward. With the updated app, you can now invite friends to a group chat using QR codes, search through chat histories, and perhaps more importantly backup and restore your WeChat conversations.
WeChat recently also hit the 300 million users milestone.