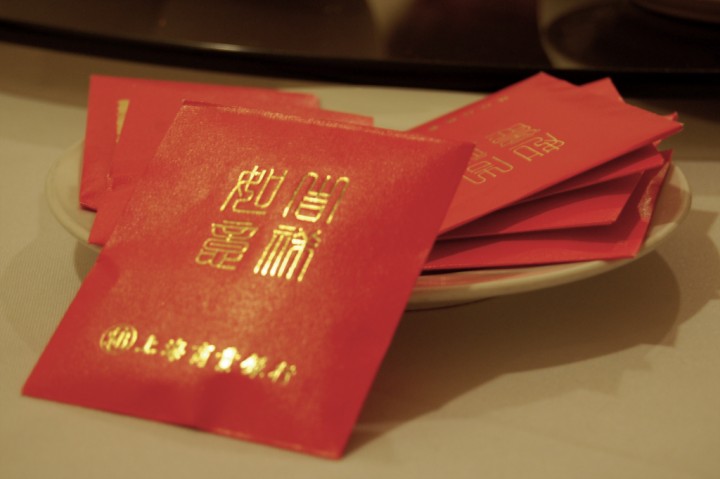 Last week WeChat, the popular Chinese messaging app, launched a feature letting users based in China gift money to friends and family.
The feature went viral in China, and yesterday parent company Tencent disclosed to Chinese media that during the first two days of Spring festival, over five million users participated in the scheme, exchanging over 20 million envelopes. At its apex, over 121,000 envelopes were sent within a five-minute stretch, during with 585,000 attempts were made by users to snatch one up.
Specifically, after binding one's bank card to the app, users can send cash-filled virtual red envelopes (a traditional gift for the Lunar New Year) one of two ways. Individuals can send cash directly to a recipient, or, if you want to spice things up, senders can put up a set sum of cash that's then distributed randomly among a specified group of friends.
For example, I might instruct WeChat to gift $25 to Paul, Steven, Terence, and Gwen. WeChat then allots this money randomly to my four colleagues, leaving lucky Paul with $15 dollars, Steven with $6, Terence with $3, and poor Gwen just $1 dollar.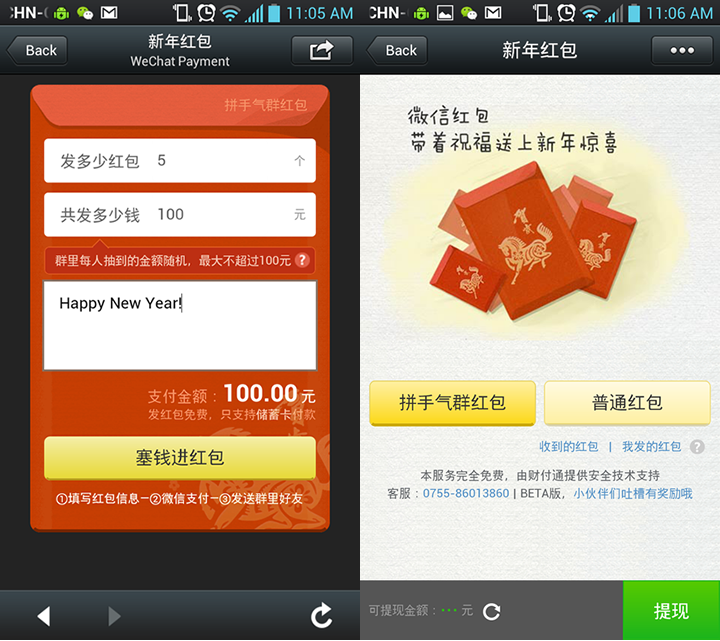 Of course, while it's all New Year's fun and games for gifters and giftees, for Tencent, the red envelope scheme marked a successful attempt to get users to bind their bank cards to WeChat. While the app originated as a messaging app and social network, it's quickly evolving into a a catch-all solution for e-commerce, gaming, and even consumer banking. WeChat might have hundreds of millions of users texting friends every day, but once those users clip their bank account to the app, they've opened their pocketbooks to Tencent.
A gift that keeps on giving
5 million registered users would be cause for celebration for most app developers. WeChat, meanwhile, just won 5 million bank accounts in two days. For rough comparison's sake, Alibaba's mobile payment service Alipay Wallet has 100 million registered users.
Tech In Asia has closely followed Tencent's rivalry with Alibaba, the Chinese tech giant that dominates in e-commerce but hasn't yet made a hit social app in China. Whereas WeChat's users likely open the app every day, Alibaba's best bet for an equally oft-used app is Alipay Wallet. In an effort to move purchases for ordinary goods onto the app, the Alipay team has developed China's offline-to-offline payment infrastructure by helping convenience stores and movie theaters complete transactions on the company's own technology.
After Alibaba chairman Jack Ma publicly declared he would delete his WeChat account in an effort to promote Laiwang, the company's latecomer messaging app, the two have introduced competing products tit-for-tat, and a petty war-of-words between the firms emerged on Chinese social media.
Raining red Bombs
Now, months after Ma ditched WeChat, the red envelope scheme has led Jack Ma to once again rally his troops on social media. Last week, in the thick of the gifting frenzy, Ma posted a message on Laiwang describing WeChat's red envelope scheme as a "Pearl Harbour Attack" on Alibaba. The post reads (partial translation ours):
… Almost overnight, everyone under the sun suddenly believes that Alipay has been beaten because of WeChat's red envelopes… It was really impressive! This year's "Pearl Harbour attack" was indeed beautifully planned and executed. Thankfully Chinese New Year is almost over, and the days are long ahead. But we definitely learned a lesson.
In addition to Laiwang and Alipay Wallet, Alibaba's other mobile offerings include a fledging casual game series that officially hit smartphones last month. While the company lags behind Tencent in the social side of mobile, it still dominates the country's e-commerce sector. Tmall and Taobao are both the the country's largest business-to-consumer retail websites (the latter also has consumer-to-consumer sales), while last years Single's Day sales blitz (the "Chinese Cyber Monday" so to speak) saw the company earn $5.1 billion in sales revenue, 21 percent of which came from mobile purchases.
(CORRECTION 6 February 2014: An earlier version of this piece got some of the numbers backwards. We reached out to WeChat for further clarification and have since corrected the error).
(Source: Xinhua)
(Editing by Paul Bischoff)
(Image via Flickr user Katie Crowley)