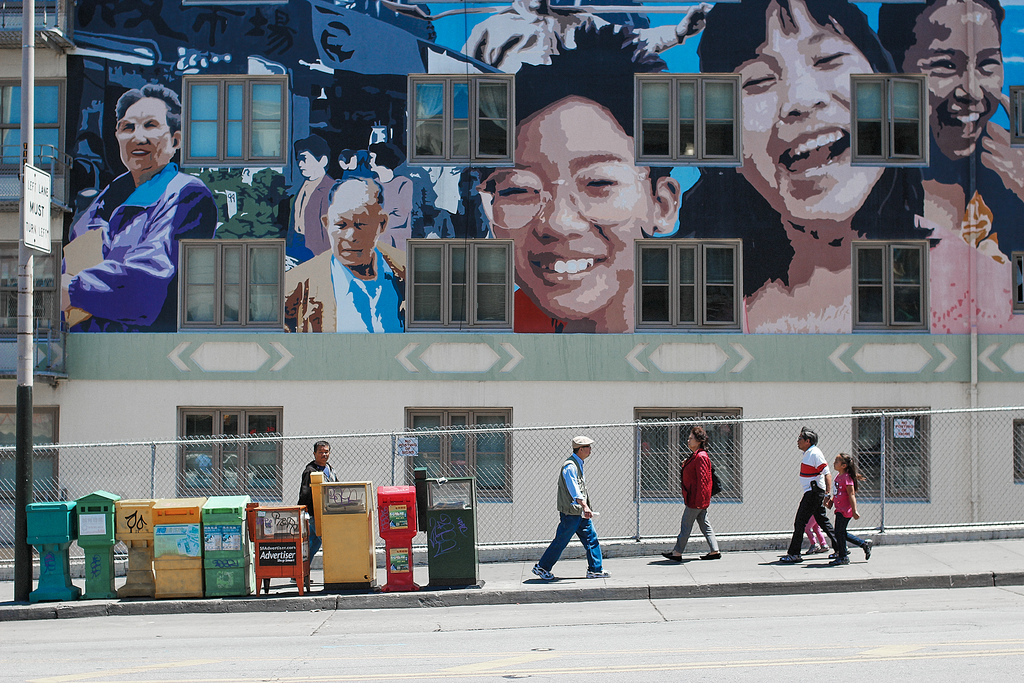 China's WeChat and Vietnam's Zalo are both increasingly popular chat apps and mobile social networks. WeChat is experiencing explosive growth both at home and abroad, while Zalo has a laser focus on Vietnam with its Vietnamese-only interface.
Interestingly, both apps have a mobile 'look around' function that allows users to interact with people nearby. With this location-based feature alone, I've been able to do an ad hoc analysis of Chinese and Vietnamese diasporas in the San Francisco Bay area.
Location-based lurking
Due to WeChat's localization efforts and global growth, I had to create specific criteria for including 'look around' results within the Chinese diaspora. I decided upon the presence of Simplified Chinese characters anywhere within a user's name, status, or Moments (a Path-like feature in WeChat) – an imperfect, yet workable standard. I also included users whose region was set to a location in mainland China (for this study, I've decided to focus on overseas mainland Chinese, rather than the Greater China diaspora).
I could have used either Sina Weibo or Tencent Weibo's 'people nearby' functions (which also have interesting 'posts nearby feeds), but although both have an almost entirely Chinese user-base, WeChat was a better comparison to Zalo as a mobile-first application.
Zalo, on the other hand, made my research methodologies painless, due to the aforementioned Vietnamese-only interface, and lack of promotion outside of Vietnam. Therefore, I included all 'look around' results for inclusion in the Vietnamese diaspora.
The results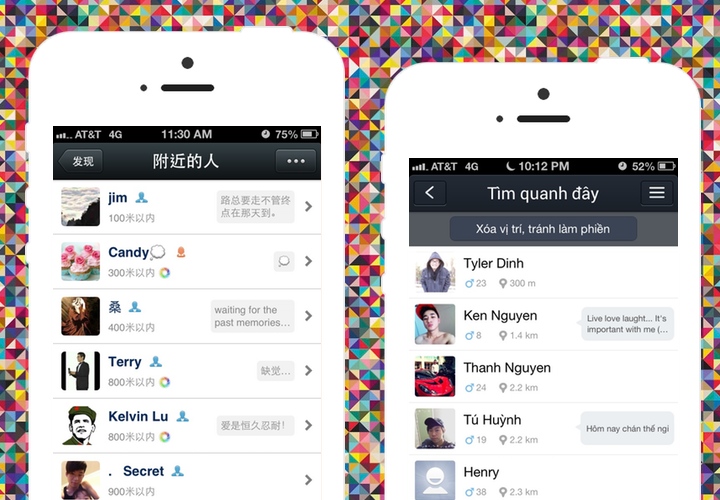 Though I've used WeChat's 'look around' function to chat with international students and other overseas Chinese in some of the most unexpected places throughout North America, I was aiming for a large sample size for this study; for this reason, I found myself driving north toward San Francisco's Chinatown, which is the largest Chinese community outside of Asia.
I got exactly what I was looking for when a WeChat 'look around' search resulted in 60 people (within 10km) meeting my criteria for the Mainland Chinese diaspora. In fact, one aspect that stood out was the seven WeChat users I eliminated from the study for usage of Traditional Chinese characters; this particular street had both Republic of China (Taiwan) and People's Republic of China flags coexisting atop neighboring buildings.
For comparison, I turned on Vietnam's Zalo app and navigated to its equivalent nearby people-finder, "tìm quanh đây", which translates to "look around here". There were six Vietnamese within 10km, and this worked out to be exactly one Vietnamese Zalo user for every 10 Chinese WeChat users in San Francisco's Chinatown and surrounding neighborhoods.
Sino-Viet mix
I was able to take Zalo for a more thorough test drive, however, 83km to the southeast in the Little Saigon neighborhood of San Jose, a city with a Vietnamese population higher than any other city outside of Vietnam. In Little Saigon, there were 47 Vietnamese using Zalo's 'look around' feature within 10km, while Chinese WeChat users were still a strong contender, numbering 43 people nearby.
Oftentimes, these communities are intertwined, due to a sizeable Chinese-ethnicity Vietnamese contingent, speaking Chinese dialects/languages such as Teochew and Cantonese; several of the results I excluded from Chinese WeChat results had usernames such as "Vietboy" for instance.
Of course, research that includes only the users of particular smartphone apps is biased in favor of younger, more tech-savvy residents. Furthermore, the 'look around' functions of these apps have acquired a reputation for unsolicited hookup requests, and many of my female friends have turned this feature off.
Nevertheless, while overall Chinese and Vietnamese diaspora populations number exponentially higher than my findings, I suspect that the ratio of Vietnamese to Chinese extrapolated from this data is largely accurate. In the meantime, I'm hoping that other Asian chat apps, such as Korea's KakaoTalk, will develop similar location-based features so that I can have some additional data to ruminate over.
(Top photo: Flickr user jakubkadlec under Creative Commons license)
(Editing by Steven Millward)