Well, you all knew it was coming. The e-commerce train has been rumbling toward the mobile chat app station for months now, and its arrival is as inevitable as this metaphor is tortured. Tencent was bound to implement e-commerce into WeChat sooner or later, and Netease Tech is reporting that the rollout has already begun. Yesterday, without much fanfare, at least one Open Platform WeChat user unveiled in-app purchases that allow users to buy items in WeChat using either TenPay or a regular Chinese bank card (also through TenPay).
In fact, the first account to offer in-app purchases seems to be McDonald's official China account, which is offering WeChat users a special discount they can only get by purchasing tea from within the WeChat app. Similar features are likely to pop up in other major vendor accounts over the next few weeks as Tencent gets ready for a more wide-scale rollout, probably when it officially launches WeChat's 5.0 update.
The in-app purchases are just the latest in a long line of features likely to be rolled out nationwide in WeChat's upcoming 5.0 version; another rumored feature is a security "bodyguard" to protect the app's new e-commerce features that may well spark another PR war between Qihoo and Tencent. It's not clear when any of these features will come to the app's 50 million international users.
It's also not clear how receptive Chinese users will be to the new in-app purchase feature, especially given that it only supports purchases through TenPay, Tencent's less-popular answer to competitor Alibaba's online payment platform Alipay. "TenPay doesn't support enough banks," complained one user in the comments section of a TechWeb article on the new WeChat feature. "WeChat will become an ad marketplace," wrote another user who accompanied his post with a crying emoticon. Whether WeChat users will embrace the convenience or condemn the increased marketing they'll have to put up with as a result of this feature seems to still be very much up in the air.
But whether users like it or not, it seems e-commerce is coming to WeChat. Below is an image showing almost the full process of a user making a purchase via the McDonald's WeChat account (via this weibo user):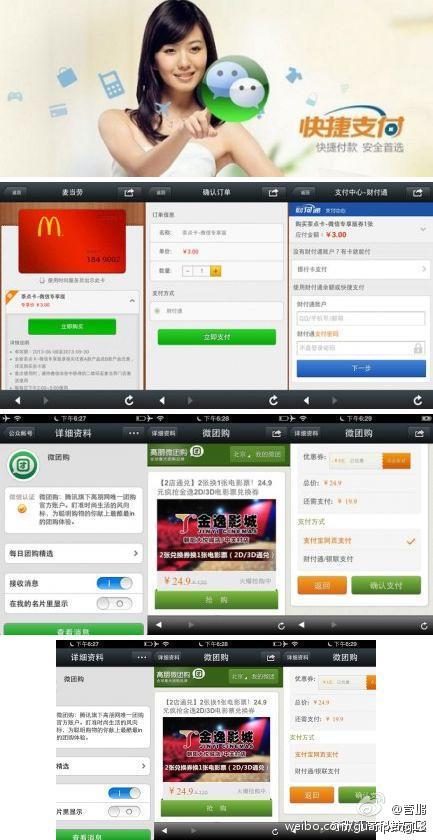 (Netease Tech via TechWeb)