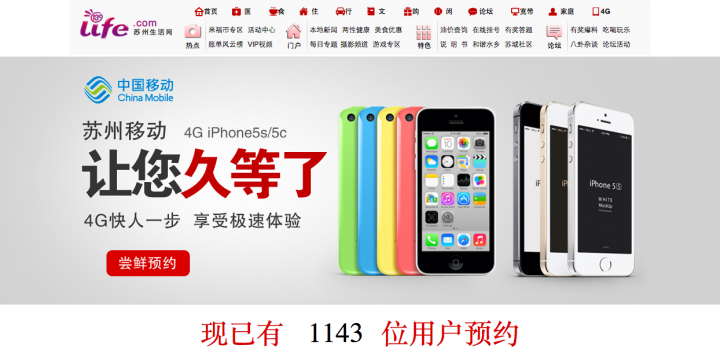 Update: We may have been duped. While this webpage passed our  smell test when we first found it, it's since been removed and replaced with a dubious-looking a market research survey. The original article from Fortune, meanwhile, posted an update stating that a China Mobile spokesman claimed the webpage "was not 'official' [and] he left open the possibility that it was some kind of test or experiment." So here's our take – could have been a "test," could have been phony. To date, the strongest evidence of a pending China Mobile deal with Apple remains the 4g certification from China's MIIT last September. Moving forward, we'll review our standards for sniffing out the shady Chinese websites!
A China Mobile subsidiary branch in the city of Suzhou has begun accepting online pre-orders for 4G-enabled iPhone 5c and 5s devices, Fortune reports.
The branch's homepage, which features a prominent announcement of the devices' arrival, marks the first piece of consumer-facing evidence confirming China Mobile's first ever support for the iPhone.
The subsidiary offers the complete product range for both devices in regard to storage and color choices, so China Mobile subscribers in Suzhou who long for a tuhao gold 5s won't be at a loss. The immediate homepage lists no information about pricing and contracts, or the time of delivery.
China Mobile's support for the iPhone is widely expected to be confirmed officially on December 18th, the same day as the telecom's launch of the country's first 4G network. But the writing first made its way on to the wall back in September, when Apple obtained permission from China's Ministry of Industry and Information Technology to operate on the carrier's 4G network.
Given that China Mobile still hasn't outwardly stated it will begin retailing Apple's iPhones, It's possible that the Suzhou branch's page marks a local soft-launch of sorts. In any case, unless a China Mobile employee in Suzhou is looking to get fired, the appearance of the promotion should serve to confirm that the devices will roll out on China Mobile very, very soon.
Apple currently occupies about six percent of the Chinese smartphone market, according to Canalys. But that figure could grow higher when China Mobile begins subsidized sales of the iPhone, making the device more affordable to its 700 million subscribers.
(Editing by Steven Millward)