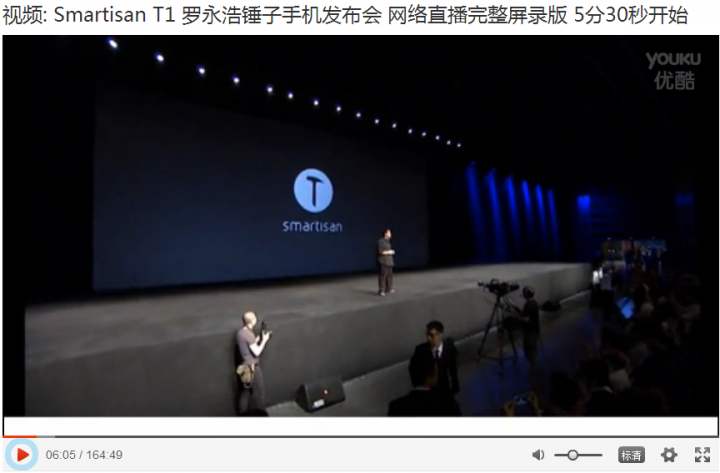 Yesterday, we reported that the seemingly obscure Chinese Android ROM maker Smartisan unveiled its first-ever smartphone, the T1. As it turns out, we weren't the only one's keeping track of the startup.
Smartisan's cult following has grown to tremendous proportions. Youku (NYSE:YOKU), the online video portal that provided a live webcast of the nearly three-hour-long launch event, reports it was the most-watched online tech-related event ever in China.
Despite requiring a registered account on Youku to view the webcast, 2.74 million people tuned in on China's most popular video portal – with as many as 350,000 watching there simultaneously. If you include external sites where the Youku player was embedded, a whopping 10 million people watched Smartisan founder Luo Yonghao introduce the T1 to the world.
A Youku spokesperson says the launch garnered four times more viewers than the most recent Chinese New Year's Gala on state-owned broadcaster CCTV, one of the biggest live events of the year on Chinese television. Youku reports half of viewers were on PCs, while the other half watched on mobile devices.
See: Youtube might buy Twitch for $1B. What are China's hardcore gamers using instead?
Youku's app is one of the most popular Android apps in China. Local market research firm iResearch reports it's held a spot in the top three most-downloaded Android apps in the country for three straight months.