When former Korean League of Legends pro Hiro first joined Team WE as coach this split, there seemed to be some concern that he was going to somehow make the team not Chinese. When rumors (which ultimately proved true) came up that Hiro was looking for Korean players, some fans swore they'd stop watching or supporting WE at all.
(See: Hiro speaks out about the language barrier, OMG, the Chinese scene, and more)
But what a difference a few weeks makes. With the summer split now well underway and fans having had some time to embrace their new leader, it seems many have become enamored with him. In fact, they're apparently sending him stuffed animals as gifts: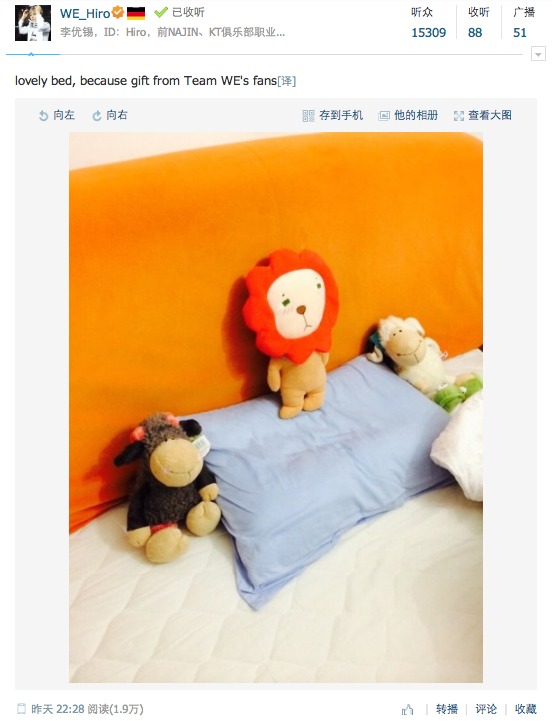 That's cute in and of itself, of course, but the comments section on that post is a virtual love-in. Since Hiro doesn't speak Chinese, many of WE's fans are posting messages to him in English, and they're pretty damn friendly. Apparently, it helps that a lot of WE's fans find Hiro to be pretty cute himself.
u r so cute lovely coach
I hope you will like it, can feel our love for WE
i love u
ps:hiro,u r soooo cute!love u
hope u have a sweet dream
Hiro isn't the only LPL figure to receive plush stuffed animals from fans, but it's nice to see WE's fans are really embracing Hiro. In fact, looking at other recent Weibo posts from the Korean coach, he's gotten very few negative comments of late. I'm sure some nationalist fans are still upset, but it appears that given a little time to get used to the new-look WE, many of the team's fans are flocking to support their "cute" new Korean coach.
(via Hiro's weibo)