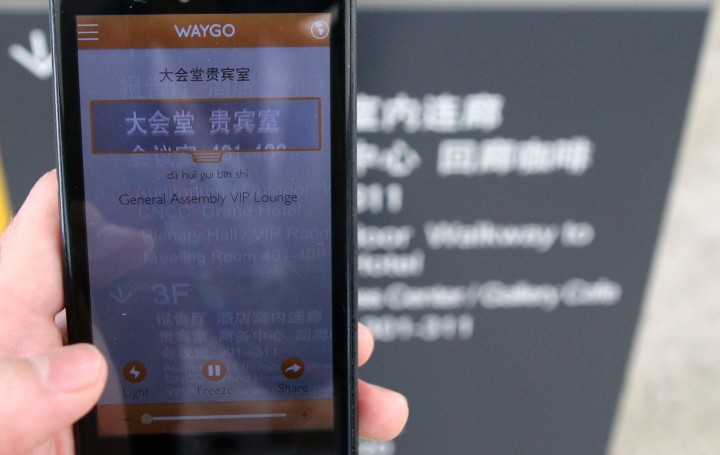 After a long wait, visual language translation app Waygo has finally launched on Android. The app includes all the same functions of its iOS counterpart, including the recently-added support for Japanese.
Waygo is one of the best on-camera recognition (OCR) translators out there for travelers in China and Japan. Unlike the often incomprehensible or wacky literal translations that result from many dictionary apps, Waygo's vocabulary is tailor-made for travel purposes.
The next steps for the California-based startup include making translations work English-to-Chinese instead of just Chinese-to-English, support for Thai and Korean, and possibly a port to Windows Phone and BlackBerry.
See: 12 essential apps for China travelers on a budget
Never type translations again
What's in store for Waygo in the longer-term future?
Waygo co-founder Ryan Rogowski took the stage at the Global Mobile Internet Conference (GMIC) today to speak about his enthusiasm for the wearables movement, especially augmented reality (AR). Rogowski eventually wants to put Waygo on Google Glass – just look at text in a different language and the translation will pop up in front of your eyes.
But Google Glass still has some major design challenges that make OCR translation a tricky prospect.
"The camera on Google Glass is not that good. There's no zoom feature. There's no autofocus. There's no auto-exposure."
That means all those features have to be programmed into the app. Furthermore, Waygo for Glass will have to be trained when to display a translation and when to keep quiet. But as hardware limitations are overcome and OCR technology improves, this could be one of the strongest use cases yet for Google Glass and other augmented reality wearables.
Waygo is available on the iTunes App Store and Google Play. The free version allows 10 lines of translation per day, and the paid version costs US$6.99 for lifetime use.