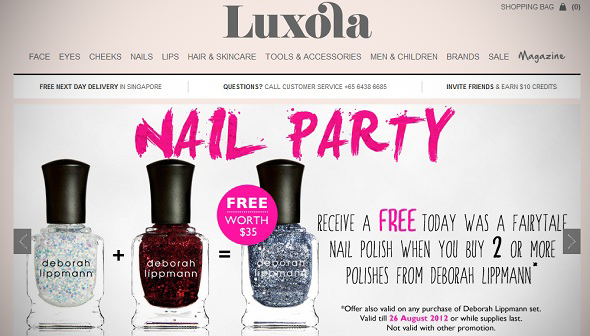 Wavemaker Labs, a Singapore-based investment firm, together with the National Research Foundation (NRF), has invested over SGD 740,000 (USD 592,000) in Luxola.com, an online cosmetics and skincare store, which is also based in the same country. This is Wavemaker Labs' first investment.
"We are thrilled to have received this funding which will help us expand into new markets while at the same time maintaining our focus on superior customer service and brand alignment," said Luxola's founder and CEO Alexis Horowitz-Burdick.
The site targets females by providing a shopping platform with information on beauty products, style and beauty tips from professionals, and a wide selection of brands. Luxola offers next business day delivery in Singapore and 2-3 day delivery in other countries.
"WaveMaker is pleased to have been given the opportunity to lead this investment round. We are encouraged by Luxola's growth across all key aspects of its business. There is still a lot more work to be done, but together with our co-investors, we hope to help Luxola achieve its vision of becoming the premiere online cosmetics and skincare store in Asia," said Paul Santos, Managing Partner of WaveMaker.
Prior to this round of funding, Luxola had raised SGD 500,000 (USD 400,000) from angel investors. The website was launched in September 2011.
Wavemaker is part of the NRF's Technology Incubation Scheme, which means that the government will provide up to SGD 500,000 per startup on top of the SGD 89,000 (USD 71,000) invested by the firm.