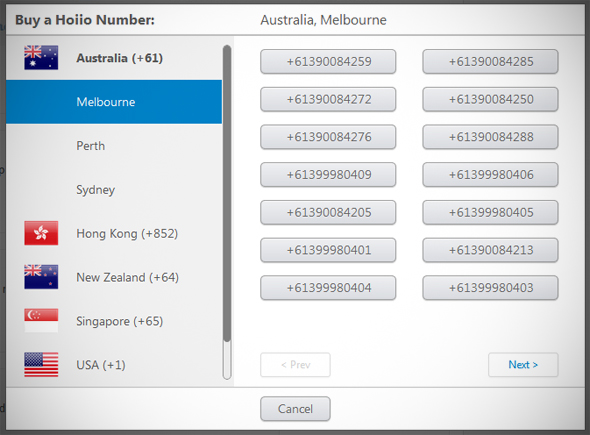 The catchphrase "Fake it till you make it" has become a common refrain among entrepreneurs who have yet to make their first million bucks. It describes an attitude of thinking you're a champion even though you're not, and making your company seem bigger and more successful than it really is.
The hope is that this power-posing will create measurable impact and real returns.
Hoiio, a Singapore-based mobile communications startup, has a new product that promises to do just that: Make your business seem larger than it is. It's new webapp, Main Line, lets you easily set up an auto-attendant — a luxury usually reserved for larger companies — at a low monthly subscription rate.
An auto-attendant, also known as a virtual receptionist, is a commonly-used system that automatically directs callers to the right department when they call a company's main line. According to Made Adi, Hoiio's product manager, setting up a virtual receptionist in the past is costly since companies need to purchase an IP-IBX system, which costs more than $1,000 to set up and hundreds more a month to maintain.
Like many existing technologies however, auto-attendants are also moving to the cloud, lowering the barrier to entry and making it affordable for more companies to implement the system.
Hoiio Main Line aims to bring the cost all the way down — such that even a startup with restrained finances might be able to afford them. As an introductory offer, Hoiio is offering Main Line to users at a discounted price of S$5 (US$4) per month, compared to the normal price of S$14.99.
The package includes a local number, up to ten extensions, personalized greeting, missed call notification via email, and the ability to block unwanted numbers. Upcoming features include uploading .mp3 files as a personalized greeting and voice mail.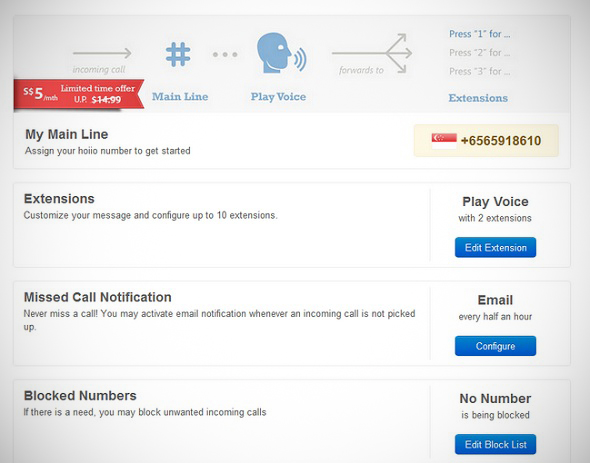 I find setting up an automated assistant to be a cinch; I was up and running in ten minutes. The default virtual voice was quite pleasant, and the user interface was decent.
One improvement I can suggest though is that whenever I receive a call from the Main Line, I would like to have the ability to see the caller's number on my mobile phone. Currently, I can only see my Hoiio account phone number. I'm not sure what the technical limitations are to implement this, but that's for the Hoiio team to figure out (update: Now, users can see the caller's phone number instead of the Main Line number).
Signing up for a Hoiio account gives you access to all of the startup's consumer and enterprise services. That includes Phonebook, Phone (which is somewhat similar to Skype's SMS and call functions), Conference, Fax, and SIP Trunk.
Fax is another app worth mentioning. With it, users can set up a fax number with Hoiio, and then receive as well as send faxes using the service. Soon, Hoiio will update the app to enable users to receive faxes from their email accounts.
Hoiio is shaping up to be a comprehensive, cloud-based, enterprise solutions suite that offers companies communication capabilities at low cost — a vision that its co-founder Junda Ong articulated to me sometime ago.
While comparisons have been made between Twilio and Hoiio, it has become obvious that Hoiio is moving in a vastly different direction by building enterprise and consumer apps that are useful right out of the box.
I have sought clarification from Hoiio regarding Main Line and the company in general. I will update the article once they respond.