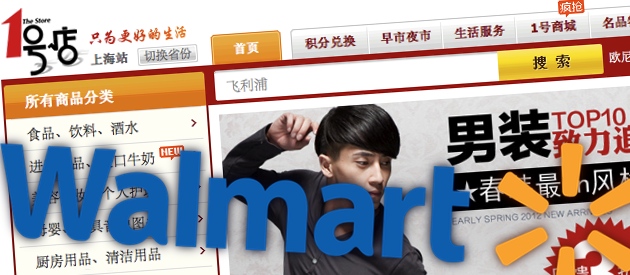 US retail giant Walmart (NYSE:WMT) secured its controlling stake in Yihaodian, China's biggest food e-commerce site, this summer. But the regulatory approval for the 51.3 percent slice of the action came with a catch – now China's Ministry of Commerce is forcing a major reorganization of Yihaodian's business. The anti-monopoly ruling is also limiting a number of tie-ups that Yihaodian and Walmart might have wanted to explore [1].
Yihaodian has confirmed that the ruling will see the e-tailer have to separate its core B2C service at Yihaodian.com from its third-party open platform offerings – those will be shifted to 1Mall.com (not yet online) in the near future.
According to the First Financial Daily, Yihaodian also plans to venture into offline commerce, setting up brick-and-mortar mini-marts around China, most likely in commercial districts. But these cannot be affiliated to Walmart's stores in any way, as a part of the anti-monopoly provisions. The stores will help spread Yihaodian's brand, particularly among the kind of urban Chinese who are its target e-commerce customers.
The anti-monopoly probe came about due to the supposedly dominant positions of both Walmart and Yihaodian in their respective sectors. Yihaodian is one of China's top ten e-commerce sites, and the largest one that specializes in food and general household items. Walmart has 333 outlets and $7.5 billion in revenue in China in 2011, but it isn't the leading supermarket chain in the nation.
[Source: First Financial Daily; via WantChinaTimes]
---
China-based lawyer Stan Abrams argues that Walmart being a foreign firm does complicate the business greatly, but ultimately "Walmart's potential use of the Yihaodian platform […] is a normal competition law issue."  ↩