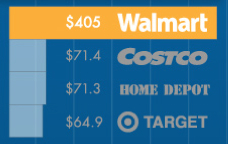 Walmart, the retail behemoth is one of the greatest success stories in today's business arena.
It has over 100 million customers per week, which is equivalent to 4 times of Australia's population.
This astonishingly high figure of customers earns Walmart $405 billion in annual sales, which is twice as much as what Costco, Home Depot and Target earn altogether.
If it were a country, Walmart would rank the 19th largest economy in the world. Simply impressive.
Special thanks to Home Loans for putting together these eye opening statistics and facts about Walmart. Enjoy the rest of the information below.

Via: Home Loans