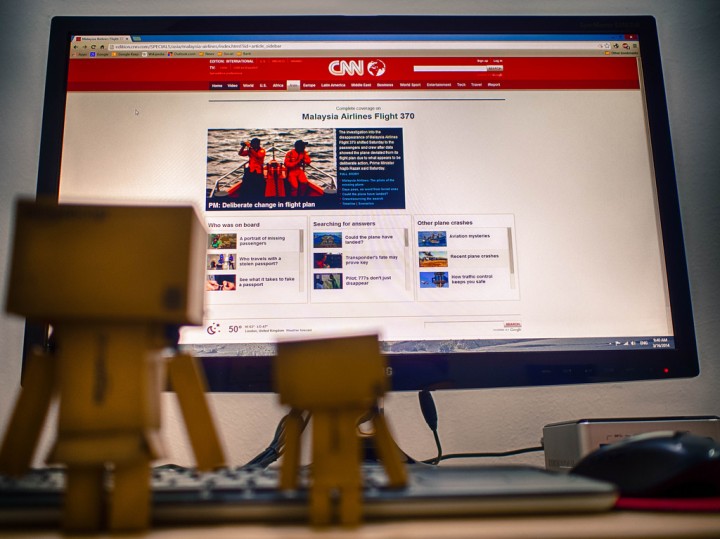 Almost two months has gone by since flight MH370 went missing, and still families of the 239 people on board the airliner continue in their struggle to cope with the loss of their loved ones.
With this incident fresh in everyone's minds, the fear of flying has found its way into many would-be passengers. There's also outrage at just how far behind the airline industry is technology-wise. The massive failure in the search for the black box is a reminder to many of the gaps in flight tracking technology.
Azan Tengku, the Singapore-based founder of flight-tracking mobile app Flight Tracker, was one of those who came to this realization. He recalled watching the drama of MH370 unfold on television and thinking: what if travelers can receive constant updates about the location of their loved ones' flights?
He put his idea into action, and Flight Tracker was the result. "In light of the tragedy (of MH370), many families will like to keep track of their members when they fly, and this app does this perfectly," he said.

While there are currently other flight-tracking options available in the market, all of them rely on "pull" technology. That is, users would have to actively use the app to fetch information on the flight. Flight Tracker utilizes "push" technology instead.
"What Flight-Tracker does is to send out the GPS coordinates to the targeted recipient via email messages," he explained. "If the worst happens, there is a GPS emergency feature that allows users to send an SOS signal to our server, so at the tiniest chance of a mobile coverage, we can get that signal during an emergency."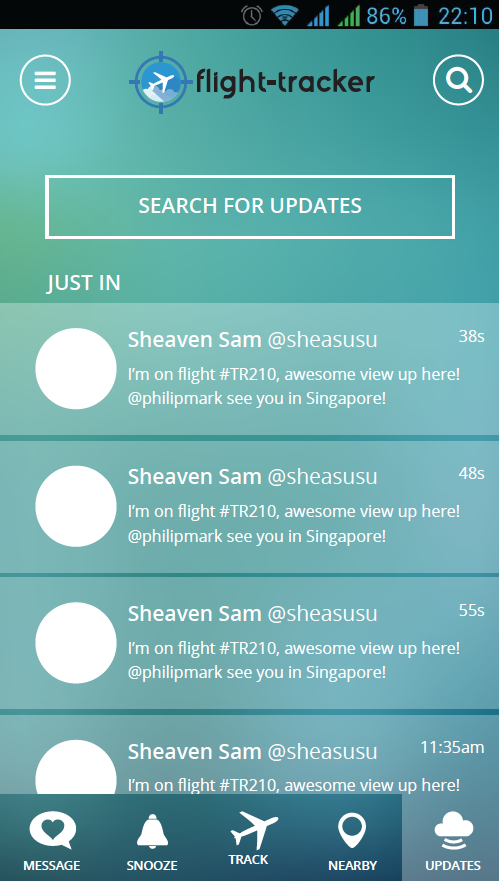 The mobile app also has a unique feature called the Last Message, which was included specifically to help families cope in the event of an accident. "In the wake of the MH370 disaster, it is clear that corporations and airlines are not always able to provide adequate updates," he said. "The Last Message feature gives the passengers a chance to draft a final message to their loved ones – a message that will only be delivered should anything happen on the plane." In this way, loved ones will at least have some closure if anything untoward happens to the passengers.
Users can register with their Facebook account, after which they will be prompted to enter their flight number and text message. This information will be transmitted to a recipient of the user's choosing, who will then get periodic updates on the flight's location.
All the information that Flight Tracker accesses is pulled from the Federal Aviation Administration's (FAA) system, whose database is publicly accessible. Flight Tracker's interface is built on top of it.
(See: As outrage grows over missing flight, Chinese websites ban Malaysia Airlines ticket sales)
While Tengku has been bootstrapping all development costs thus far, he is close to securing US$40,000 (SGD$50,000) in funding from a regional VC firm, whose name he declined to reveal. The app is set to launch on Android sometime in July, which according to Tengku will be just in time for summer travels. The iOS app, on the other hand, will only be released in February next year.
If you are interested in trying out the beta version, you can sign up on their website here.
(Image credit: Flickr user Ck Chiam)