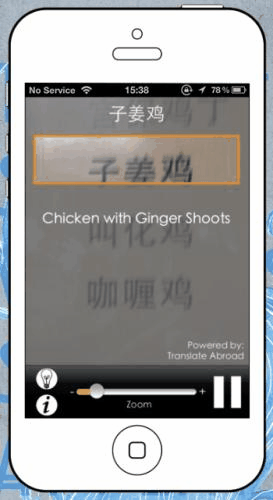 I must admit that I really love apps that do something enormously useful, thereby taking the strain off of my slowly vegetating brain. The less I have to strain the synapses, the better. And so I jumped upon Waigo as soon as I heard about it, a clever translation app for iPhones that uses the camera to recognize and translate Chinese menus. Yes, that's quite a niche app, but Waigo makes up for it by doing its task with aplomb, translating and demystifying even the most obscure and idiomatic of Chinese dishes.
A good example might be the dish zi jiang ji. Most apps or dictionaries would just tell you the basic components of this dish – "young ginger" and "chicken" – while Waigo will give you a proper culinary overview by telling you what it really is: chicken with ginger shoots. That sounds good enough to order.
The team behind Waigo has caught the attention of 500 Startups' Dave McClure who seems to have a thing for specialist language apps that break down borders.
Before hearing from the startup that made the app, I'll defer to friend-of-the-blog and occasional contributor Matthew Ho for a review of Waigo app, since Matthew is also in this business with a linguistic-minded startup of his own [1].
Much of the Waigo magic is done by optical character recognition (OCR) so that the app can understand Chinese characters that would otherwise leave you baffled. Weighing up Waigo against similar opposition, such as pricey-but-powerful Pleco, or the free-but-limited Soso Huiyan, he explains:
I have also used Pleco and Soso for the same purpose – to try to read menus and Chinese text generally. These are more general tools, not specifically for menus. That's why I was excited to use Waigo and downloaded it immediately. I'm continually looking to improve my Chinese and practice using menus, and order my food in Chinese. Waigo is a lot easier to use than Pleco and Soso – and actually Soso is in [and designed for] Chinese only.

I like the idea of a menu-specific app, because it probably uses a set of menu words and can do more accurate translations. It's easier to do it if it's from a set of food words rather than all kinds of Chinese words. There are still issues with translating phrases and blocks of Chinese text, even with Pleco and Soso. I imagine it's not easy to do with machines and OCR but it will get better over time as the technology improves [2].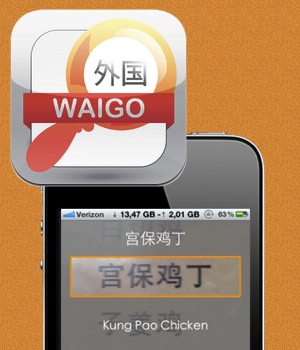 Matthew admits that Waigo sometimes hits a wall with text on certain cans, packages, or printed words, but unclear images will confound any app of this type. And don't even get us started on family-run restaurants that have hand-written menus. But clearly, Waigo is an impressive app from a very young startup.
A new pair of eyes
Behind Waigo app is TranslateAboard. The team, explains director of business operations, Rob Sanchez, has been taken on as part of the 500 Startups Batch 5 Accelerator program. Rob explains:
We received investment from Dave McClure and his team and moved the company to Mountain View, California. The accelerator consists of 35 international-focused teams with plenty of great mentors and investors to help us build a really great company.
Now, he adds, the team is "currently in the process of raising a round of seed funding and is 50 percent of the way there." That'll help them expand the scope of the app, and will also assist them in building apps for translating Japanese and Korean to English, plus English to Chinese – those are due in Q2 2013.
The Waigo concept came from TranslateAbroard CEO, Ryan Rogowski, when working on mobile games in China. Rob goes on:
At first the idea was somewhat educational. Eventually it grew in Ryan's head that this could be used for any traveler in any country. We decided to focus on China and the East Asian market first because that's where our team had the most experience and it was also the most difficult batch of languages to solve and we wanted a challenge.
The clever OCR algorithms that make the app a replacement for your brain and eyes were developed in-house, and took a year and a half to get right. New features will come for Waigo in an update next month, along with the first monetization plan:
The app is currently free and there will be continue to be a free version so that anyone can try it out. In version 2, expected early January, we are adding many cool features such as an improved interface, sharing on social networks, and multi-line translation. All of those features will be included in the free version but you will have to pay for extended use of the application. You will get a small number (less than 100) of translations upfront for free plus another small number (less than 20) per day so you can continue to use it occasionally. The app will then request that you upgrade to a weekly package (for travelers) or an unlimited version (for expats or frequent travelers).
Waigo app is here in the iTunes App Store.
---
Matthew's startup is NativeTongue, makers of Mandarin Madness.  ↩

He also has some neat ideas for new features, such as: "They could provide more context around the food item: brief description, ingredients, background/history/culture about the cuisine, pictures, etc." Or, "Use geolocation and figure out where you are in China, and tell you some more regional information about a dish. For example, a Singapore version of a dish may be different to a China version, even though they have the same name; or the food item could be more spicy or it could be a completely different dish."  ↩