As we've said before on the blog, feature phones and their users shouldn't be ignored – even in terms of monetization. And that's something shown by Vuclip, which recently raised $13 million, led by SingTel Innov8, for its video uploading and streaming service. Today Vuclip is saying that it has seen one million downloads of its Nokia app, with especially great traction on the Nokia platform in India, Indonesia, and Saudi Arabia.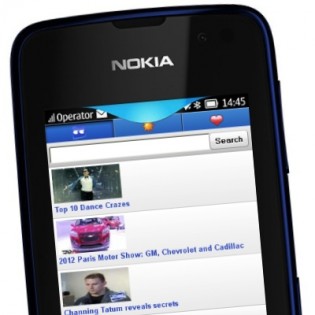 Indeed, Indian feature phone owners – such as those on the new-ish Nokia Asha phones (pictured) – account for over 60 percent of the app downloads since its launch on the Symbian S40 platform in August 2011.
Vuclip also has apps for BlackBerry, Android, and iPhone, so it's able to target a broad range of individuals, though its service is still aimed mainly at emerging markets. The company claims to have 14 million monthly unique users and delivers over 20 million videos every day.
Not too many big-name video apps or sites even bother to cater to owners of low-power phones, but emerging markets still represent a keen viewership that's a captive audience for brands. And so Vuclip – which is based in California and has four offices throughout Asia – mostly monetizes from advertising and specialist brand channels within its apps. Plus, those on other phones, like random JAVA-based creations, can still access Vuclip in the mobile browser.
The Vuclip app is here in the Ovi Store.