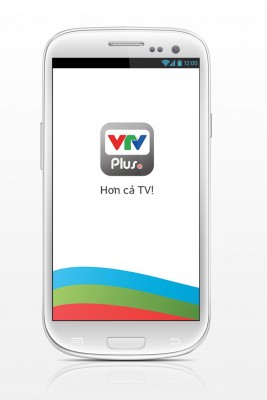 Television is still the dominant medium in Vietnam. 90 percent of all Vietnamese citizens own a television set, and for ad spending, television dominates with over 70 percent of the market. Compare this to the Internet, the online population is closing in on 35 percent and internet advertising spending is just below four percent of the total ad spending in 2012. TV is still the biggest medium and mobile-oriented folks realize this.
With mobile on the rise, is it any surprise that mobile apps in Vietnam have been moving in the direction of providing television? That's where VTV Plus comes in, a mobile app that streams live television. The state-owned television media provider, VTV, built its own Android app and released it on the Google Play store yesterday.
The app provides 28 channels from VTV and with just one click users are immediately able to see what is happening on those channels live. Users can watch sports, news, business reports, and entertainment across all of VTV's channel offerings.
VTV Plus enters a pretty crowded space where many apps on Android are already making a play for mobile television using VTV's content. But with VTV making its own app, it not only provides better and faster streaming than its competitors but it also shows us that state-owned media companies are not ignoring mobile, and are actually very involved in shaping mobile's future. With state-owned companies creating their own social network where users need to provide their social security numbers, and large corporations like FPT under semi-state control, we can expect to see more services like VTV Plus coming out of state-owned companies.
Of course, this also means private competitors like Viet Mobi TV Free and weTV, which already claims to have over half a million users, will have to step up their game.
Find the VTV Plus app for Android in the Google Play.