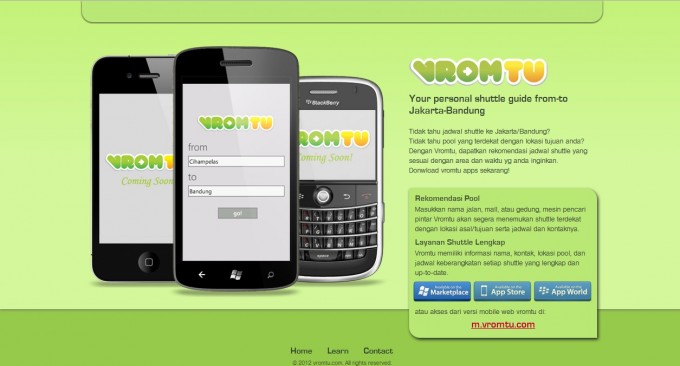 Unlike most app developers these days, who prioritize building apps on iOS or Android, Vromtu chose to build its app on Windows Phone (WP). The app offers information on shuttle bus services in Jakarta and Bandung, including routes, departure schedules, contact numbers, and addresses, and was officially launched on Saturday.
Vromtu is a simple service. You just need to type in the departure and arrival points, and then the app will search online and give you a list of available routes and shuttle buses. At the moment, Vromtu has data from nine shuttle bus companies which collectively account for more than a hundred bus pools.
Aloysius Adrian, the founder of Vromtu, believes that the Windows Phone platform is on the rise both globally and locally with the arrival of the revamped WP8 and the upcoming 7.8 update. The startup's team members are all WP users, and that's a big part of why they built their app first for WP rather than the more mainstream platforms. The team hopes to launch an iOS version this year, while Blackberry users might need to wait a bit longer for Vromtu.
Aloysius said that they will be focusing on fine-tuning search results and developing better shuttle directories in the near future. They are all still open to feedback. My suggestion would be to make the app available offline in its first big update, as mobile coverage can be patchy. Also, I was a bit confused as to why there are features for texting and emailing within the app when the shuttle bus companies receive orders only via telephone. Aloysius told me that the feature is built to help users share their transportation details with their friends, and not to book shuttle buses.
Windows Phone users can download the app here, or you can use Vromtu through its mobile site m.vromtu.com.