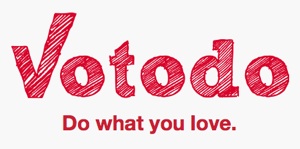 'To do' lists can be a quite a chore for some people, and are not the kind of things that we share. But the Indian startup Votodo wants to change that and make not so much a social network as an "action network." The Votodo site, currently in private beta, allows people to create, share, and follow lists, encouraging users to comment on them or adopt some of the inspirational ideas.
Votodo's founder is Nirav Shah, a Columbia University graduate who quit his Wall Street job to become an entrepreneur. He explains to PO that his startup's service aims to be forward-looking:
If status updates, check-ins, or tweets tell you what's happening, 'to dos' on Votodo can tell you what's going to happen: What people want to do, and how they'll do it.
Anyone who creates a to do item on the site can then see it accrue comments from other people, who might also click the two other options: 'want to' or 'done.' Likewise, you can weigh-in on other people's items, and browser popular to do ideas or search for people by location. In the picture below you can see a bunch of people reacting to the topical 'buy gifts for your Valentine' item: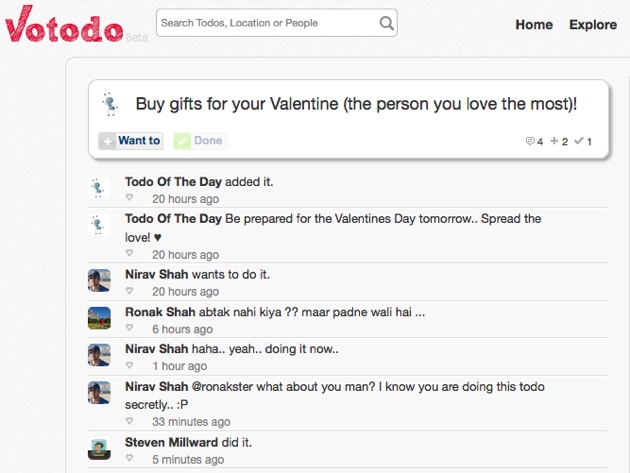 On your own Votodo page, which resembles a simplified Twitter site, you can add things you wish to do, and optionally broadcast them on Facebook or Twitter: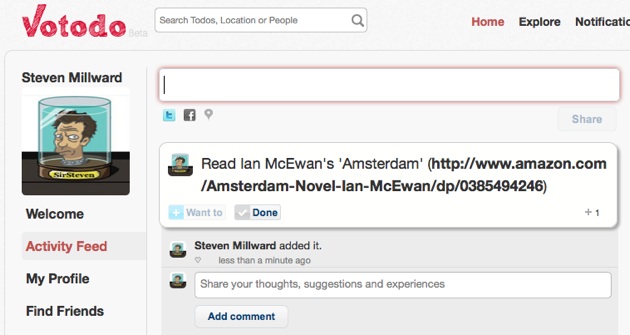 Nirav informs us that Votodo was one of the eleven startups that recently graduated from the three-month long iAccelerator program at the Indian Institute of Management, Ahmedabad, (along with MakeHappy, the charitably-minded e-commerce site). The startup's core team of four, based mostly in Mumbai, is now working on apps for iOS and Android so as to take the idea mobile.
Those with an invite to the site can join via Facebook or Twitter login credentials which will plug you in to your friends, ready to share your to do lists. Apply for an invite on its homepage and Nirav promises it'll be approved within a couple of days. Or hit me up on Twitter (@sirsteven) and I can send some out.