I'm beginning to appreciate the beauty of online collaboration tools of late. Our own team here at Tech in Asia uses online collaboration tools since we are all located in different countries. Collaboration breeds creativity, and there are many online tools which facilitate this process.
A writing collaboration service from Indonesia recently caught my attention. It's called Volpen, and it aims to unite casual writers all over the globe to create the next epic literary work, one book at a time.
It strikes me as a little odd, but also cool and interesting at the same time. Since elementary school we have been taught to have a structure before putting our ideas in ink. But it's interesting because you would not expect the same style of writing, tone, voice, and storyline since the eventual product will be a collaboration among a many authors. Daniel Liejardi, the co-founder and development head of Volpen elaborates:
Our vision is that the books written at Volpen are not going to be the typical book. It is meant to be more fun, less uniform, and an exposée of the different styles of ideas and writings of the contributing authors. It will be the agglomeration of the ideas of a big group of individuals — where all these different ideas can be organized and take the form of a Volpen book.
There are four steps to publishing a Volpen book: writing, voting, royalty sharing, and then publishing.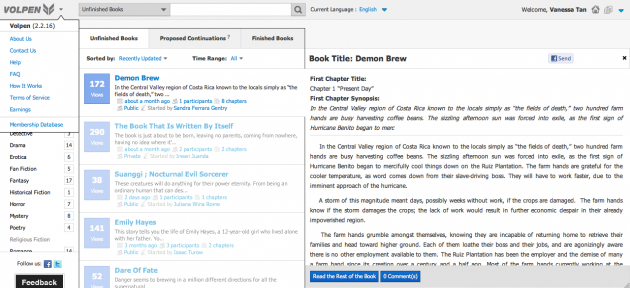 Volpen has a writing platform that adopts a minimalist design where data is stored and backed up automatically every 30 seconds to prevent the risk of data loss. It looks pretty straightforward but personally I would prefer if the writing pad were in full screen mode or be placed on the left rather than on the right where it is currently.
How do they choose which direction is best for the story then? Volpen has a voting system which ensures that only the best submissions to the continuation of the story will be chosen, since the eventual chapters are submitted by different writers.
Upon completion of the book, revenue and royalties are calculated and displayed to each contributing writer. Percentages are shared based on the number of words contributed to the story. It will then be automatically formatted and then submitted to e-book publishing platforms such as Amazon and Kobo.
Volpen currently has four co-founders and four developers on their team, and since their beta launch last December, they already have 435 registered writers on board with them, averaging out to over 100 writers signing up with them per month. They have also raised US$100,000 from an undisclosed angel investor.
Upcoming plans? The Jakarta startup is adopting a global outlook, which I like. They are planning to translate their interface into multiple languages, to ease their entry into different countries. Daniel adds:
We are also developing a private group feature that will allow educational systems to utilize the platform to make writing more fun and competitive. Traditionally, students in creative writing classes are only writing to please one person — their teacher. The Volpen platform will allow them to write competitively and expose their writing for public scrutiny. The completed work will also be sold commercially, further adding to the incentive for them to write. In short — we aim to make the creative writing a fun class activity and less of a chore.