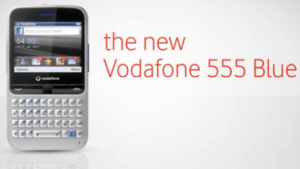 Last month we reported on how Tata Docomo and HTC had partnered to launch the ChaCha in India. But another company, Vodafone, is reportedly now set to bring its Vodafone Blue 555 to India to capitalise on the huge market of 25 million strong Facebook users in the country. The phone will be manufactured by Alcatel. According to Peter Beckker Pennrich, director at Terminal Marketing:
Vodafone Blue is meant for the emerging markets and was tested stringently for its resistance to dirt and water. We are not device manufacturers but we plan to position Vodafone Blue as a sturdy yet affordable social networking device.
---
Some fast facts about the Vodafone 555 Blue:
---
One-touch Facebook button in a QWERTY keypad.
It is not a smartphone and does not have touch screen either.
It's aimed at college students and low-end phone buyers.
It has a 2.4-inch QVGA display with 320×240 resolution.
Features a 2 megapixel camera with flash and a FM radio (These are standard features in any phone in the price range of Rs 3000 to 5000, or $65 to $108, but I think Vodafone could have done better with the camera at least.)
---
Can it compete with the 'other' Facebook phone?
---
While the HTC ChaCha is a touch smartphone with a Qwerty keypad, the Vodafone 555 Blue is a standard phone, with no touchscreen.
There has been no official announcement regarding Vodafone 555's launch, but according to Gartner, the Vodafone 555 Blue may cost around Rs 5000 ($110) in India providing its users with unlimited Facebook access for a year. Gartner analyst, Mr. Vikas Nishal, explained:
Most handset vendors have social networking phones in their portfolios, and the only way Vodafone can sweeten the deal for customers is by giving them a cheaper handset, with a closely integrated Facebook experience that is vastly better from what other feature phones deliver today.
So, if Vodafone manages to keep the cost of its Facebook phone around this figure, and come up with an attractive data plan for buyers, then it surely is going to have an edge on the 'other' Facebook phone, the HTC ChaCha. That one is priced much higher at Rs15,990 ($390).
Check out the promo video for the 555 Blue below.