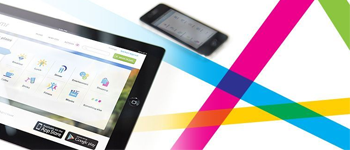 If you're in Ho Chi Minh city, you may remember the small controversy over at Skunkworks in January. Earlier this year, the team downsized to just eight core members from over 40 members. Skunkworks was a startup, funded and CEO'ed by Bryan Pelz, who was CEO of VNG for several years in its early days. Skunkworks' main goal was to create a mobile app called Klamr. Klamr's is a mobile app to help people schedule meetups with their friends.
Now, Klamr is back. It's fully released on the Google Playstore and iOS store and it's an evolution over the project that was completely scratched in January. According to Bryan:
We put aside all the work we did for the last two years and focused on building a new streamlined product with a new direction. The way Klamr looks today is a result of that.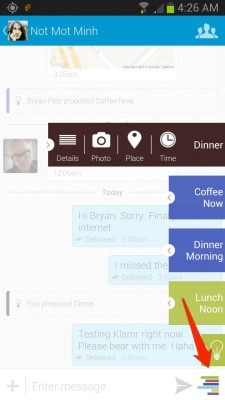 And I have to say, the app has come a long way from a year ago. I met up with Bryan at TechCrunch Disrupt and we played around with Klamr a bit. Klamr, at first glance, appears to be just a messaging app, but it's much more subtle than that. If you click on the button on the right, you'll see that you can suggest meetings to your friends.
So, if I want to hang out with Bryan tonight, I could suggest we have coffee. Then Bryan, in the app, could suggest that we meet at Starbucks, and suggest a time. Then, I would accept, and the app will send me all the data I need. It cuts down on all the tedious emails that people send back and forth trying to figure out where to go and when.
Notable features
The nice thing with Klamr is that it allows multiple users to get on one "Klamr" or chat box where people can chat together about where to go and use the scheduling function to explore and finalize options. But as Bryan notes:
The beauty of it is that we can also send an SMS to people who are not in the platform, thus keeping them in on the loop without having to download the app.
This is a feature that Klamr was working on back when it was Skunkworks. It makes the app inclusive. It gets them more potential users.
Another key component to Klamr is its content organization. In order to give users the best possible suggestions for places to eat, Bryan has employed over 50 people to aggregate Yelp, Foursquare, and Facebook location data. In a lot of ways, this matching is Klamr's intellectual property as well as core value. Nobody else has organized this much amount of location data and it makes deciding on a location much easier. I can read the Yelp reviews along with Facebook Page offers next to finding out what Foursquare deals are available, all in one place.
So you've got location data, you've got exporting of SMS, and you've also got the ability to share photos. This basically combines everything people want to do when they go hang out with each other.
The implications
If you haven't read Paul Graham's piece on frighteningly ambitious startup ideas, you should. In the essay, he outlines quite clearly why email today currently sucks and that it's a huge opportunity for a startup to tackle dismantling or reinventing e-mail. Klamr, I believe, is one attempt at that, or at the least, a segmentation of that. Email is just too cumbersome. You have to scroll through useless text to get to what is needed, some people write emails that are too long, people often don't reply to their emails, and inboxes are overflowing.
In the near future, I anticipate that apps like Klamr will slowly come out of the woodwork. Craigslist, in many ways, brought a ton of information online, but in the past decade, young startups like TaskRabbit, GetAround, and Airbnb, have slowly given birth to the sharing economy. I think a similar revolution will happen to email. We're going to see more ideas that take one thing that email does well, make it better, and then turn it into an app.
On the other hand, Klamr could just go the way of Foound from Singapore, which essentially went for the same exact solution to casual meetups, but ultimately failed. It's not easy to beat email, after all.
You can download Klamr on the Google Playstore or Apple Appstore right now. Please note that Klamr is mainly supported in the USA at the moment.
(Editing by Willis Wee)