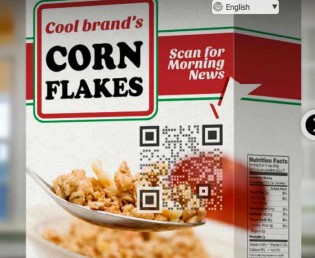 Earlier we announced the winner of the Seed Stage G-Startup contest at the Global Mobile Internet Conference (GMIC) here in Beijing, and now we are also delighted to know that Israel-based QR code generator, Visualead, has walked away as the winner of the G-Startup Growth Stage competition.
Interestingly, it was also one of the startups which caught my attention during the G-Startup pitches. It converts ugly QR codes into visually appealing ones, and aims to be one of the most effective and useful technologies in leading consumers from offline to online.
How the idea came about
The current Visualead that you see is actually a pivot from the original idea that the startup founders had. It first started out as an image scanning and detection application, where users can scan images and obtain more information about what's in the picture. However, this poses two problems: First, how would users know that they are able to scan the picture? It would probably require another line which directs users to scan, which could visually ruin the picture. Second, it would require users to download another specific application to scan the product, which could be tedious for users.
They then saw an opportunity in the perfect marriage between QR codes and image scanning, since there was a rise in use of the former. Visualead was the eventual hybrid solution which takes advantage of both technology. Users would be aware (in theory) that they can scan it based on the prior knowledge of QR code scanning.
Engaging consumers
Speaking to Uriel Peled, co-founder and CMO at Visualead, he tells us that QR codes are too ugly and often placed on the side of offline marketing materials. With Visualead, it has been proven, says Uriel, to increase the percentage of scans, which shows that the prettier image is more effective in engaging an audience.
He also reveals that consumers are more inclined to engage with brands that produce visually appealing QR codes, and it makes it more personal for consumers to connect with QR codes that are branded and more creative. In fact, within six months of operation, Visualead is experiencing an exponential growth of businesses adopting its platform, seeing more than 200,000 new business users each month. CEO and co-founder, Nevo Alva, also revealed in his pitch that one particular Austrian firm saw a 200 percent increase in signups using a Visualead generated QR code.
Looking to China and Asia
At present, Visualead is free to use to replace normal and boring QR codes with sparkly new ones. It plans to collect a premium fee as it rolls out new features, such as analytics that enable companies to better understand consumer scanning habits. This would ensure businesses would be able to effectively target its consumers. It also targets advertisers and designers to adopt its platform in the designing of marketing collaterals, acting as Visualead's 'resellers'.
Visualead first opened with the aim of attracting business from the US and Europe, but also sees an opportunity in the Chinese market which is experiencing an exponential growth in smartphone usage and QR code scanning. Indeed, we've seen that QR codes are an integral part of WeChat, the hugely popular messaging app. It is looking to have some business co-operation with bigger companies, such as Baidu, Alibaba, and Sina. It is also searching for a Chinese partner.
Uriel explained that as much as copying is a concern for many startups when it comes to entering into Chinese waters, he said that its technology has several international patents, with a China patent currently pending.
Apart from China, it hopes to expand into other markets such as Singapore, Japan, and Korea. It is also currently looking to raise series A investment.
This is part of our coverage of GMIC 2013 in Beijing, running yesterday and today (May 7 and 8). For other stories from this event, click here.