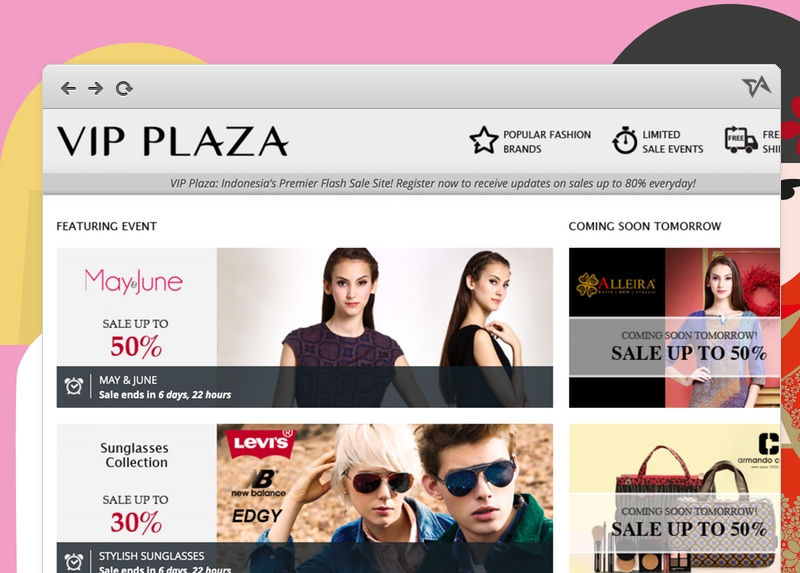 Indonesia's e-shoppers now have one more option when buying clothes online. VIP Plaza launches today as a flash sales site focused on mid-range brands such as Levi's, Guess, and Nike. Unlike conventional e-stores, VIP Plaza puts new items on sale daily – with discounts of 30 to 80 percent – at 10am, and the deals last for only seven days.
The two co-founders of VIP Plaza are an experienced pair. Tesong Kim is the former director of Rakuten Indonesia and is now the new site's CEO. Business partner Yoga S. Sugiharto has a background at investment bank BNP Paribas. Kim tells Tech in Asia that VIP Plaza has funding from Japan's CyberAgent Ventures, though the investment sum hasn't been revealed. CyberAgent Ventures has long taken an interest in Indonesian e-commerce and gaming startups.
Kim explains that the team's aim is to grow the new e-store to 300 popular fashion brands within the year. "Our vision is to be Indonesia's most exciting e-commerce company, where people can find something to enrich their lifestyle," he adds.
VIP Plaza enters to strong competition in the clothing sector of Indonesia's booming e-commerce industry. It's up against Rocket Internet's Zalora and the hundreds of millions of dollars it has in its war-chest, as well as homegrown rivals such as BerryBenka and Myntra.
VIP Plaza stands out with its flash sales and an emphasis on discounts. We've seen women-oriented store FimelaShop do flash sales in Indonesia, but it's largely an untested model in the country.
Kim says that a "good number of orders are already coming in this morning" immediately after VIP Plaza came online.
(Editing by Josh Horwitz)