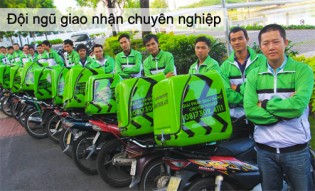 A new hot startup has been taking the streets of Ho Chi Minh city by storm for the past five months. With 70 employees already since its inception this past July, giaohangnhanh.vn is the startup to watch. For me, it's a welcome refresher from the usual web and mobile centered startups you see in the young Vietnamese startup scene. I called up one of its co-founders and current sales manager, Nguyen Tran Thi, to see what they've been up to.
"Giao Hang Nhanh" literally means "Delivering Products Fast." It is a delivery service that delivers specifically for retailers, so if you're an electronics store in Vietnam, Giao Hang Nhanh is your new best friend. It has entered a delivery market where: 1) retailers don't want to deliver, 2) there are low quality delivery companies, and 3) where customers don't want to go out into the smoky motorbike-filled streets.
Just as most of the top startups in Vietnam have built on top of cash-on-delivery models, Giao Hang Nhanh has done the same. Its drivers take products to customers' houses, receive payment, and deliver the money to their clients. Current models in this space are independent delivery people, retailers' own delivery drivers, or small companies without sophisticated shipping systems. This last model is probably Giao Hang Nhanh's most important startup superpower.
The first 10 founders came mainly from the logistics department of thegioididong.com, one of Vietnam's leading electronics distributors that came onto the scene in 2004. With that experience, the founders built an IT system to keep track of barcodes, drivers, products, retailers, customers, and pricing that has been its competitive edge and the key reason for its growth. This has enabled the website to offer online registration and delivery requests, cutting down on friction for retailers.
The final icing on the cake is Vietnam's delivery market mainly uses independent drivers, and few if any of them have branding or customer service training. This presents a problem for dissatisfied customers who too often are asked to "sympathize" when their products are damaged or not what they ordered. In contrast, Giao Hang Nhanh's drivers have uniforms, are trained, and can tap into the IT framework.
Currently, Giao Hang Nhanh offers services to all the districts in Ho Chi Minh city but will be expanding into Ha Noi and provincial regions surrounding Ho Chi Minh city. This is an aggressive plan for a company that hasn't even been around for a year – but its success is in the bag. It's one of the few good examples of a startup looking at real problems in society and applying IT to solve it.
This is a refreshing change from the business-as-usual startups in Vietnam who are often just copying social media, e-commerce, and group buying models from Silicon Valley.