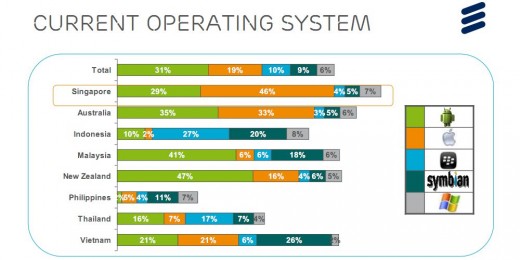 With Vietnam having more than 130 million mobiles in a country of 90 million and growth projected at five percent year-on-year, what's the mobile OS breakdown? When you look at the stats from Ericsson's Mobility Report a few months back, Vietnam seems to be a bit of an anomaly in the region. Android and iOS are equally faced off in terms of market share, but Symbian still rules. Most of the folks you see on the street are carrying the usual durable Nokia phones.
I think this is odd when you consider Nokia's steady decline since the rise of more modern smartphone platforms, but the predominance of Symbian makes sense in a country that is still mostly rural and still developing its own internet culture. More than 60 percent of the population is outside of the cities, after all. Nokia has recognized this and started plans to build its first factory in Vietnam. But this might be too late without a powerful and attractive smartphone OS of its own. Nokia is far from having a modern ecosystem that facilitates app markets. That's essentially what has made Android and iOS phones so appealing to consumers around the world – and increasingly in Vietnam too.
Android and iOS are head-to-head at 21 percent each in the overall mobile OS share. This will most likely trend in the direction of Android as its phones are getting cheaper, more powerful, and more accessible. Every major electronics store in Vietnam carries Android phones. iPhones, on the other hand, are found mainly in official Apple resellers and are always pricey. Although older models like the iPhone 3GS and 4 are getting cheaper, products like the iPhone 5 are expensive to the point of being inaccessible to the vast majority of people. For Apple fans, new is more appealing than old. Why would I buy an old iPhone if I can get a new Android-powered Samsung for the same price or less? In Vietnam, the iPhone5 so far has been a loser.
With Blackberry OS at six percent and the new Windows Phone at two percent, their impact won't be felt until late 2013, by which time RIM will have BB10 ready to roll. Both RIM and Microsoft are intent on cultivating a huge app ecosystem for their platforms but I'm still waiting to see if they can actually execute. Early 2013 will clearly be a battle between Symbian, iOS, and Android. A battle that, like in China, Android is bound to win.