In an insightful white paper from ComScore, it turns out Vietnam is the most active internet population in Southeast Asia. Check out these numbers: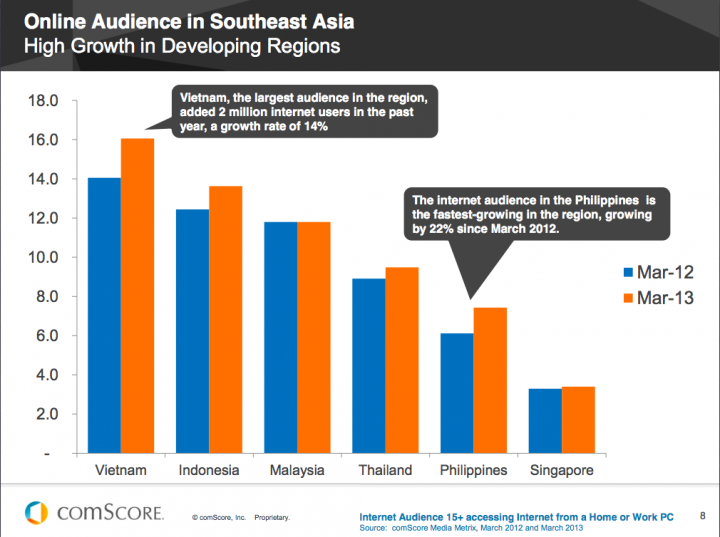 In the space of just one year, Vietnam has added an extra two million monthly users. That brings the total monthly users to 16.1 million. That's about half of the total 36 million internet users in Vietnam. For comparison, Facebook in Vietnam had over twelve million users in March this year, but by June, two months later, this skyrocketed to 15 million.
According to ComScore's report, more than 74 percent of the 16.1 million active web population in Vietnam is under 35. The average amount of time spent online per day was 89.7 minutes and the average amount of pages viewed was 132.1. Social networking made for 21.6 percent of online activity (no doubt deeply connected to the Facebook stats above) and entertainment was a close second at 19.3 percent of time spent online.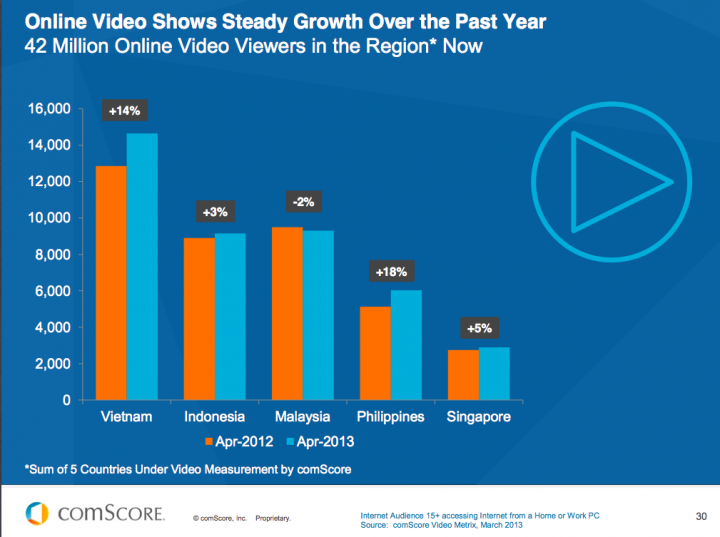 The top seven entertainment sites in Vietnam, in descending order, are: Youtube, Zing MP3, Kenh14, NhacCuaTui.com, Ngoisao.net, Clip.vn, and Vietgiaitri.com. Youtube and Clip.vn are, of course, online video sites, while Zing MP3 and NhatCuaTui.com are both music platforms. In other words, Vietnamese people love video and music. Thus it's no surprise that online video viewing grew more than 14 percent from 13 million viewers to almost 15 million.
Given the above stats, Vietnam is definitively the most aggressive online population in Southeast Asia right now – though one that's often overlooked. Ignore it at your own peril.
In terms of population, Indonesia is much larger than Vietnam at 240 million people. comScore data counts only PC users so Vietnam might just be top for the PC segment. But if mobile is accounted for, Indonesia is likely going to be top.
(Editing by Steven Millward)