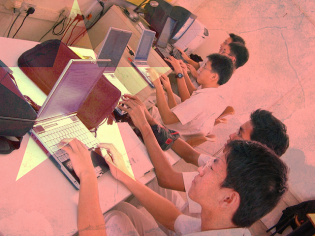 In Vietnam, if you want to read information about the technology industry, there are tons of sources. News has been on the frontlines of Vietnam's Internet boom since the very start. A quick look at Alexa's rankings for Vietnam will reveal that 11 of the top 20 websites are news sites. Unfortunately, when you drill down to technology news, you immediately see that most of these websites don't cover technology in Vietnam. They're all talking about news from Silicon Valley. It's not easy for the layman to get news about new technology companies, new products, or cutting edge trends in Vietnam. It's still mostly word of mouth.
If you work in the Vietnamese entertainment or events industry, you already know why this is the case. You have to pay newspapers in Vietnam to give you press. And it's the same in the tech sector here. Startups that want their products to be known typically have to pay the press in order to get coverage. At the same time, these newspapers are giving free press to companies from Korea, Silicon Valley, Japan, and China. It's a catch–22. Everybody knows about the latest iPhone, nobody knows about Setech Viet. Free press for foreigners, costly and dodgy paid coverage for local startups.
This presents a significant barrier for startups that want to bring their products to market in Vietnam. The big news sites like VN Express, Vietnamnet, Tuoi Tre, Zing News, and BaoMoi.com report on local news in culture, entertainment, sports and etc. But when you check the tech news, it's rare that you'll find local technology news. Where is the news about Kleii, Vietnam's first entrance into cloud storage? Or Foody.vn, Vietnam's Yelp? Or Appstore.vn, the mobile app distributor? These are the kinds of startups I think need more press and we've been featuring them here in the last few weeks.
Luckily, a few new Vietnamese websites have emerged over the years to focus specifically on technology news. These include:
Of these, only a few of them have a specific focus on Vietnamese technology news while most have 60 to 80 percent of their news focused on Silicon Valley. In my opinion, they need more focus on Vietnam.
How Vietnamese tech news sites will contribute
To me, there are two contributions that these young tech-oriented news sites could do for the technology community:
Give tech startups the spotlight they need – for free – to release their products to a wider audience, which (for the most part) still has not integrated technology into their lives or businesses.
Give technology enthusiasts and entrepreneurs the much needed self-reflection and accountability that a technology community needs to mature and develop.
Although they're far from the level of clout and influence we see with TechCrunch, Hacker News, All Things Digital, CNet, and other Silicon Valley giants, press is always something that startups need. The question is, do Vietnamese entrepreneurs see them as a potentially credible voice and use them accordingly? And will these sites put a price on their microphone or give young Vietnamese entrepreneurs the voice they dearly need?